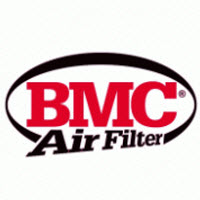 BMC Racing Air Filters For Motorcycles
BMC is an Italian company based in Bologna, the company was established in 1973 but it wasn't till 1996 that they started making air filters, today the company has over 90 distributors worldwide and sponsors the Pata Yamaha WorldSBK Team.
BMC, have 2 versions of motorcycle air filter in their catalogue. The standard filters are for everyday use and cover an extensive range of motorcycles, motocross, scooters and superbikes. The standard BMC air filter has been designed to replace the original filter without the need for any further modification. The special oil soaked cotton material archives better air flow and gives your engine greater power. The air filters are very durable and can be washed and used repeatedly. BMC is trusted by some of the top teams in motorsport and can be found in Formula 1 cars and MotoGP and WorldSBK bikes.
BMC's motorcycle racing air filters have a distinctive yellow stripe across the filtration material to make it easily distinguishable from the standard air filters. The filters are made for track and race days or riders looking for even greater performance. The filters have gone through the ISO5011 test for Inlet air cleaning equipment for internal combustion and have recorded an outstanding filtration rate of 97.5%.
BMC Motorcycle Air Filter Matainence Routine.
The standard and race air filters by BMC can both be washed and reused, BMC recommends that the filters are washed and oiled every 15,000 km. The proper maintenance routine of the filters is essential to guarantee the life span and performance of the filters. BMC has a range of products to help you keep your filter in pristine condition, WA200-500 is a complete washing kit that includes detergent and oil spray. The air filter regeneration process is pretty straight forward, first, you loosen the large particles from the air filter by either shaking or tapping the filter, please note the use of compressed air will damage the filter. Use the BMC detergent and let it soak for 10 minutes, handwash the filter in cold water and let it dry naturally, don't use direct heat. Apply the regenerating fluid then use the oil spray and leave to dry for 30 minutes.