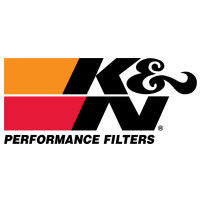 K&N Performance Air and Oil Filters
K&N are the leading manufactures of washable air filters worldwide. The company has been making automotive parts since 1969 and have been investing millions in research and development over the years. K&N has a manufacturing base in California and their products are exported to over 30 countries. K&N have a catalogue of over 5,000 parts for cars, trucks and motorcycles
K&N has powersports air filters and oil filters for all the popular makes and models of street bikes, cruisers, motocross and ATVs. K&N has a million-mile limited warranty that covers material defect and workmanship on all of its OE replacement Air Filter and Intake System (the small print can be found at https://www.knfilters.com/warranty.htm). The filters have been designed to maximise airflow to your engine, which increases the horsepower. Adding the right air filter is the easiest way to increase your engine's performance without the need for other more expensive systems. K&N's air filter design of layered, oiled cotton material can provide up to 50% more airflow and have been tested in ISO 5011 testing facilities. The filters have been made to fit directly into the airbox without further modifications and are extremely durable, washable and fully reusable.
K&N have an outstanding range of premium oil filters that are available in canister or cartridge construction both provide excellent filtration of harmful engine contaminants and a high flow rate. The range incorporates filters for motorcycles, ATVs, UTVs, and off-road vehicles and is suitable for synthetic and non-synthetic oils, the filters are also compatible with modern synthetic racing oils. The cartridge type oil filters feature one-inch (17mm) Wrench-Off® nut for easy removal with a standard wrench and a pre-drilled hole for attaching a safety wire. Most filters come in a black or chrome finish and have ultra strong double rolled seams and are Pre-lubricated for easy installation. Another option is the K&N Washable and Reusable Billet Oil Filter which will last the lifetime of your motorcycle or ATV, the body of the filter has been exquisitely milled from Billet 6061 T6 Aluminum, the filter cartridge uses a dual woven T 304 stainless steel micro-mesh which provides increased oil flow compared with standard oil filters, cartridge also contains 2 Neodymium magnets for extra filtration.
If you want to replace the whole intake system K&N has designed a range of filters that are custom made for your motorcycle. The intakes kit takes around 90 minutes to fit and doesn't require any specialist tools. The filter's aerodynamically design along with with the oiled cotton filtration material produce up to 50% greater airflow.
K&N have a range of air intake systems for Harley Davidson's, the patented Aircharger® system is estimated to give Harley Davidson touring modes an extra 12 horsepower and Softail models an extra 10 horsepower. K&N filters have also been designed to enhance the motorcycle's appearance, with its distinctive aerodynamic designs coupled with the iconic red 201 material and the famous K&N logo.