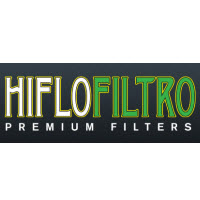 HiFlo Air Filters & Oil Filters the best selling aftermarket filters on the market
When rider are considering buying a new HiFlo filter the main question they have is what is the difference between an HiFlo Filter and OEM filter? (hiflofiltro vs OEM). HiFlo is an OE producer of filters, which means they make filters for some of the top motorcycle manufacturers in the world. They only use the very best materials in the construction of their filters, steel from Japanese companies such as Toyota Tsusho and NKK, glue from Henkel in Germany and filter material from Ahlstrom Filtration from Finland, Hollingsworth & Vose in the USA and Japanese paper company Awa. The company has excellent quality control with filter going through 16 individual checks before they reach the shelves. HiFlo has been making filters since 1955 and has over 40 years of constant research and development, HiFlo factories are produced at their ultra-modern facilities in Thailand. HiFlo is sold in over 70 countries worldwide and has distribution hubs in the UK and USA. HiFlo boasts one of the largest range of aftermarket filters in the world and has a stock of 2 million filters ready for shipment. HiFlo filters can be half the price that you would pay for an original OEM filter but without sacrificing any of the quality you would expect from a top filter.
HiFlo have made the first and only TÃœV approved motorcycle oil filters, they are manufactured using outstanding materials and are designed and made to exceed OEM standards. The catalogue encompasses road & off-road bikes, scooter, mopeds, motocross, enduro and ATV's. The OE replacement filters are constructed around a spot welded centre core which gives it additional strength, the filtration material is bonded to the centre core and metal end caps are added. The top of the filter consists of a leaf spring and 4 point spot welded pressure relief valve which is an extra safety feature. The bottom of the filter has an anti-drain valve and a heavy duty base plate, a pre-lubricated gasket is added for easy installation and to ensure a strong durable seal, all this is encased in a heavy-duty steel canister. If you are looking for a high-performance racing oil filter, HiFlo has the RC range. The filters have been made for race conditions and the demands from modern race bikes. The RC oil filters are encased in a heavy-duty steel canister which has been designed to withstand extreme pressures, the filter has a 17mm nut which facilitates easy installation and removal of the filter. The advanced filtration material used is capable of filtering out particles as fine as 5 microns and still maintaining improved oil flow. The oil filters are suitable for all types of oils including synthetic and semi-synthetic.
HiFlo OE replacement air filters are designed to fit your motorcycle without the need for any further modifications to your bike. The filters have exceptional air flow and have been made to meet the needs of the modern motorcycle engine. Dual-Stage Racing Foam air filters from HiFlo is an off-road filter that has been designed for competition use, the filters use a specially formulated foam which has been designed for maximum filtration without any loss of performance.
The same Dual-Stage material used for the motocross filters has also been used for their range of scooter air filters. The special dual layer foam provides excellent filtration for your scooter. The filters have a coarse foam outer layer that traps the larger particles, the inner layer is much finer and has been designed to trap smaller particles.