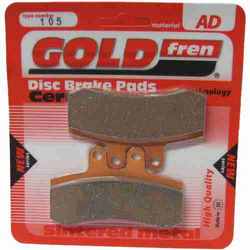 The AD compound by Goldfren is the best selling motorcycle brake pads in the Goldfren range. The pads are suitable for road use and have fitments for motorcycles, motocross bikes, scooters, mopeds and ATVs. The pads have been designed and manufactured to outstanding standards in the Czech Republic. The brake pads suit riders with a normal riding style and are not designed for aggressive riding or the track. The pads are hard wearing and on average gives 20% more longevity when compared to other sintered compound at the same price and are 3 times longer lasting than organic or Kevlar brake pads.
Goldfren have made a pad that has excellent stopping attributes coupled with low abrasive effect on the brake discs, the ceramic and iron composite material achieves quieter assured braking. The AD specially formulated compound is lead and asbestos free, the AD pads are made by fusing ceramic and iron particles at extremely high temperatures and pressure, the process is known as sintering. Although sintering does occur naturally it has only been used since 1906 as a commercial manufacturing process after being invented by Arthur G. Bloxam
Goldfren AD Series Operational Specification.
Specific pressure: P < 5.0 Megapascal
Sliding speed: V < 40 m/s-1
Constant maximum tempreture : 450°C
Short time maximum tempreture : 700°C
Counter-surfaces: steel disks