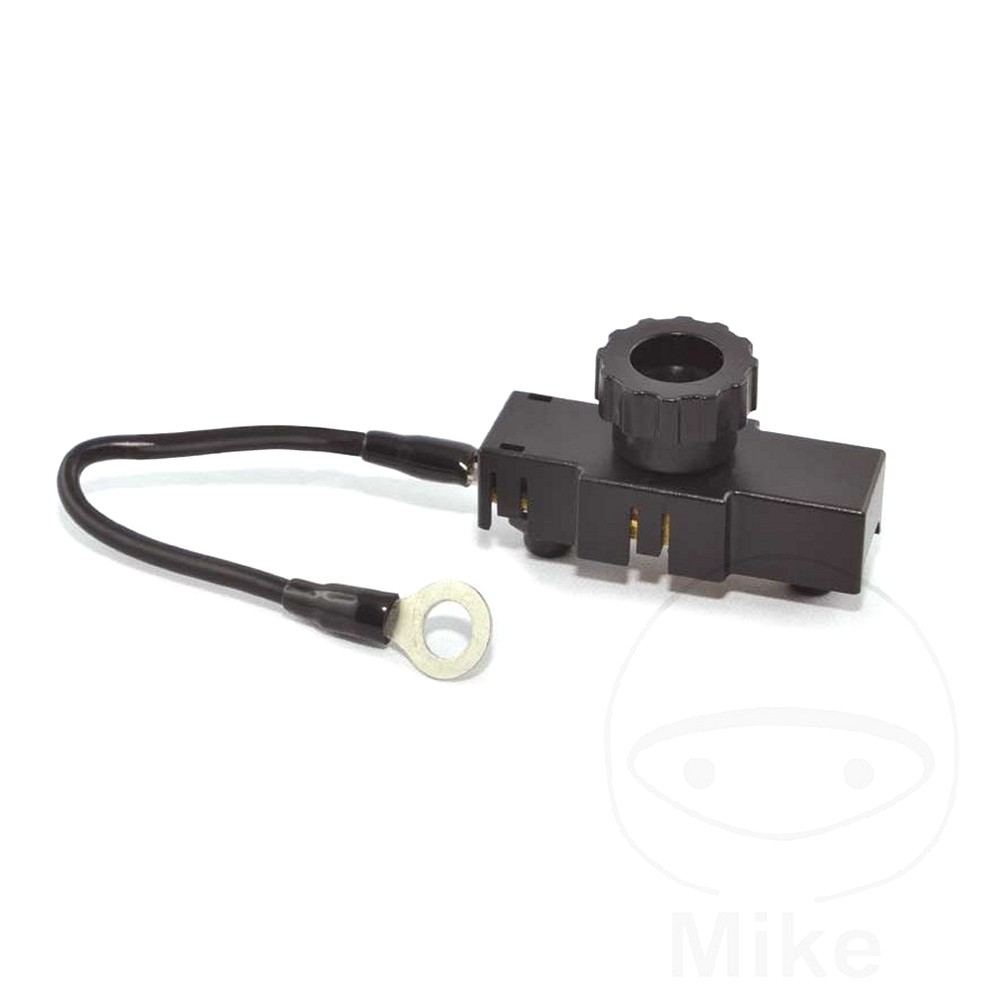 Battery Master Switch For BMW 706.01.37
Fully insulated bike battery master switch for the onboard power supply enclosure to the
Discharge of the battery through constant consumer as clock, trip computer,
Etc. to avoid accessory during longer breaks.
By simply loosening the screw, the separation is already achieved.
The screw simply loosen 1-2 turns and leave the switch. Thus they can not be lost as well.
For driving please correct firmly turn.
Mini design
Fully insulated housing
Flexible mounting between negative and vehicle
Load max. 160A - 12V / 10 sec pause then 30 sec..
Bridge cable included.
Installation instructions on product depositors
Dimensions:
L / W / H: 62 x 25 x 38 mm
Cable: 200 mm
Model Codes :BA18
Contents:1 Unit
Motorcycle Fitment Data
BMW C 600 Sport ABS 2012 - 2014
BMW C 600 Sport Edition ABS 2014 - 2015
BMW C 650 GT ABS 2017 - 2015
BMW C 650 GT Edition ABS 2014 - 2015
BMW C 650 Sport ABS 2017 - 2016
BMW C1 125 2000 - 2003
BMW C1 125 ABS 2001 - 2003
BMW C1 200 2002 - 2003
BMW C1 200 ABS 2002 - 2003
BMW Evolution ABS 2017 - 2015
BMW Evolution Long Range ABS 2017
BMW F 650 1993 - 1998
BMW F 650 800 GS 2008 - 2011
BMW F 650 800 GS ABS 2008 - 2011
BMW F 650 CS Scarver 2004 - 2002
BMW F 650 CS Scarver ABS 2004 - 2002
BMW F 650 GS 2004 - 2002
BMW F 650 GS ABS 2004 - 2002
BMW F 650 GS Dakar 2004 - 2002
BMW F 650 GS Dakar ABS 2004 - 2002
BMW F 650 ST 1997 - 1998
BMW F 700 800 GS ABS 2017 - 2015
BMW F 700 800 GS ABS ESA 2017
BMW F 800 GS 2008 - 2011
BMW F 800 GS ABS 2017 - 2015
BMW F 800 GS ABS ESA 2017
BMW F 800 GS Adventure ABS 2017 - 2015
BMW F 800 GS Adventure ABS ESA 2017
BMW F 800 GT ABS 2017 - 2015
BMW F 800 GT ABS ESA 2017
BMW F 800 R 2009 - 2011
BMW F 800 R ABS 2017 - 2015
BMW F 800 R ABS ESA 2017
BMW F 800 S 2006 - 2009
BMW F 800 S ABS 2007 - 2009
BMW F 800 ST 2006 - 2011
BMW F 800 ST ABS 2007 - 2011
BMW G 310 GS ABS 2017
BMW G 310 R ABS 2016 - 2017
BMW G 450 X 2008 - 2010
BMW G 650 GS 2011 - 2012
BMW G 650 GS ABS 2012 - 2015
BMW G 650 GS Sert?o 2012
BMW G 650 GS Sert?o ABS 2012 - 2013
BMW G 650 Xchallenge 2007 - 2010
BMW G 650 Xchallenge ABS 2007 - 2010
BMW G 650 Xcountry 2007 - 2008
BMW G 650 Xcountry ABS 2007 - 2008
BMW G 650 Xmoto 2007 - 2010
BMW G 650 Xmoto ABS 2007 - 2010
BMW HP4 1000 ABS 2012 - 2014
BMW HP4 1000 Competition ABS 2013 - 2014
BMW K 100 /2 1987 - 1989
BMW K 100 /2 ABS 1987 - 1989
BMW K 100 1982 - 1987
BMW K 100 LT 1986 - 1990
BMW K 100 LT ABS 1986 - 1990
BMW K 100 RS 1983 - 1988
BMW K 100 RS ABS 1983 - 1988
BMW K 100 RS4V 1989 - 1991
BMW K 100 RS4V ABS 1989 - 1991
BMW K 100 RT 1983 - 1988
BMW K 100 RT ABS 1983 - 1988
BMW K 1100 LT 1990 - 1995
BMW K 1100 LT ABS 1990 - 1997
BMW K 1100 LT Highline ABS 1997 - 1998
BMW K 1100 LT Special Edition ABS 1994 - 1995
BMW K 1100 RS 1992 - 1995
BMW K 1100 RS ABS 1992 - 1995
BMW K 1200 GT ABS 2003 - 2007
BMW K 1200 LT ABS 2004 - 2002
BMW K 1200 R 55 inch rim 2005 - 2007
BMW K 1200 R 55 inch rim ABS 2005 - 2007
BMW K 1200 R 60 inch rim 2005 - 2007
BMW K 1200 R 60 inch rim ABS 2005 - 2007
BMW K 1200 R Sport 55 inch rim 2007 - 2008
BMW K 1200 R Sport 55 inch rim ABS 2007 - 2008
BMW K 1200 R Sport 60 inch rim 2007 - 2008
BMW K 1200 R Sport 60 inch rim ABS 2007 - 2008
BMW K 1200 RS 5 inch rim ABS 2001 - 1999
BMW K 1200 RS 55 inch rim ABS 2001 - 1999
BMW K 1200 S ABS 2005 - 2007
BMW K 1300 GT ABS 2009 - 2010
BMW K 1300 R 55 inch rim 2009 - 2011
BMW K 1300 R 55 inch rim ABS 2009 - 2014
BMW K 1300 R 60 inch rim 2009 - 2011
BMW K 1300 R 60 inch rim ABS 2009 - 2014
BMW K 1300 S ABS 2009 - 2014
BMW K 1300 S Motorsport ABS 2014 - 2015
BMW K 1600 B Bagger ABS 2017
BMW K 1600 GT ABS 2011 - 2015
BMW K 1600 GT Sport ABS 2013 - 2015
BMW K 1600 GTL ABS 2011 - 2015
BMW K 1600 GTL Exclusive ABS 2014 - 2015
BMW K 75 /2 1989 - 1993
BMW K 75 /2 ABS 1991 - 1993
BMW K 75 /2 Edition 1996
BMW K 75 /2 Edition ABS 1996
BMW K 75 1984 - 1987
BMW K 75 C 1985 - 1989
BMW K 75 RT 1989 - 1994
BMW K 75 RT ABS 1996
BMW K 75 S 1985 - 1994
BMW K 75 S ABS 1985 - 1994
BMW K1 1000 1988 - 1992
BMW K1 1000 ABS 1988 - 1992
BMW R 100 /7 1978 - 1976
BMW R 100 Cast wheel 1981 - 1984
BMW R 100 CS CLSport 1980 - 1984
BMW R 100 GS 1986 - 1989
BMW R 100 GS PD Paris Dakar 1989 - 1992
BMW R 100 GS PD Paris Dakar CL Edition 1994 - 1995
BMW R 100 GS/2 1990 - 1993
BMW R 100 Mystic 1993 - 1995
BMW R 100 Roadster 1991 - 1992
BMW R 100 Roadster Classic 1994 - 1995
BMW R 100 RS 1978 - 1976
BMW R 100 RS/2 Monolever 1986 - 1991
BMW R 100 RT 1978 - 1981
BMW R 100 RT/2 Classic Monolever 1994 - 1995
BMW R 100 RT/2 Monolever 1987 - 1992
BMW R 100 S 1978 - 1976
BMW R 100 Spoked wheel 1981 - 1984
BMW R 100 T Touren 1977 - 1980
BMW R 1100 Cast wheel 1995 - 2000
BMW R 1100 Cast wheel ABS 1995 - 2000
BMW R 1100 GS 1993 - 1998
BMW R 1100 GS ABS 1993 - 1998
BMW R 1100 RS 1992 - 2000
BMW R 1100 RS ABS 1998 - 2000
BMW R 1100 RT Cast wheel ABS 1996 - 2000
BMW R 1100 RT Spoked wheel ABS 1996 - 2000
BMW R 1100 S 5 inch rim 2004 - 2002
BMW R 1100 S 5 inch rim ABS 2004 - 2002
BMW R 1100 S 55 inch rim 2004 - 2002
BMW R 1100 S 55 inch rim ABS 2004 - 2002
BMW R 1100 S 55 inch rim Boxer Cup Replica 2003 - 2004
BMW R 1100 Spoked wheel 1995 - 2000
BMW R 1100 Spoked wheel ABS 1995 - 2000
BMW R 1150 GS 1999 - 2003
BMW R 1150 GS ABS 1999 - 2003
BMW R 1150 GS Adventure 2004 - 2002
BMW R 1150 GS Adventure ABS 2004 - 2002
BMW R 1150 Roadster 2004 - 2002
BMW R 1150 Roadster ABS 2004 - 2002
BMW R 1150 Rockster 2005 - 2003
BMW R 1150 RS 2002 - 2004
BMW R 1150 RS ABS 2002 - 2004
BMW R 1150 RT 2002 - 2004
BMW R 1200 2007 - 2011
BMW R 1200 90 Jahre ABS 2013
BMW R 1200 ABS 2007 - 2013
BMW R 1200 C Avantgarde 1999 - 2002
BMW R 1200 C Avantgarde ABS 1999 - 2002
BMW R 1200 C Avantgarde high bar 1999 - 2001
BMW R 1200 C Avantgarde high bar ABS 1999 - 2001
BMW R 1200 C Independent 2000 - 2004
BMW R 1200 C Independent ABS 2000 - 2004
BMW R 1200 C Montauk 2004 - 2005
BMW R 1200 C Montauk ABS 2004 - 2005
BMW R 1200 CL 2003 - 2004
BMW R 1200 CL ABS 2003 - 2004
BMW R 1200 CLASSIC 1997 - 2004
BMW R 1200 Classic ABS 1997 - 2004
BMW R 1200 Classic ABS 2013 - 2014
BMW R 1200 Classic high bar 1997 - 2001
BMW R 1200 Classic high bar ABS 1997 - 2001
BMW R 1200 GS Adventure 2010 - 2008
BMW R 1200 GS Adventure 90 Jahre ABS 2013
BMW R 1200 GS Adventure ABS 2010 - 2008
BMW R 1200 GS Adventure ABS Triple Black 2013
BMW R 1200 GS Cast wheel 2004 - 2011
BMW R 1200 GS Cast wheel ABS 2004 - 2011
BMW R 1200 GS LC Adventure ABS 2017 - 2015
BMW R 1200 GS LC Adventure ABS ESA 2017
BMW R 1200 GS LC Adventure Triple Black ABS 2017
BMW R 1200 GS LC Adventure Triple Black ABS ESA 2017
BMW R 1200 GS LC Exclusive ABS 2017
BMW R 1200 GS LC Gussrad ABS 2017 - 2015
BMW R 1200 GS LC Rally ABS 2017
BMW R 1200 GS LC Speichenrad ABS 2013 - 2015
BMW R 1200 GS LC Triple Black ABS 2016
BMW R 1200 GS Spoked wheel 2004 - 2011
BMW R 1200 GS Spoked wheel ABS 2004 - 2011
BMW R 1200 HP2 Enduro ABS 2005 - 2006
BMW R 1200 HP2 Megamoto ABS 2007 - 2008
BMW R 1200 HP2 Sport 2008 - 2010
BMW R 1200 HP2 Sport ABS 2008 - 2010
BMW R 1200 LC ABS 2017 - 2015
BMW R 1200 LC ABS ESA 2017 - 2015
BMW R 1200 NineT ABS 2017 - 2015
BMW R 1200 NineT Pure ABS 2017
BMW R 1200 NineT Racer ABS 2017
BMW R 1200 NineT Scrambler ABS 2016
BMW R 1200 NineT Scrambler Gussrad ABS 2017
BMW R 1200 NineT Scrambler Speichenrad ABS 2017
BMW R 1200 NineT Urban G/S ABS 2017
BMW R 1200 RT 90 Jahre ABS 2013 - 2014
BMW R 1200 RT ABS 2005 - 2012
BMW R 1200 RT LC ABS 2017 - 2015
BMW R 1200 RT LC ABS ESA 2017
BMW R 1200 S 55 inch rim 2006 - 2007
BMW R 1200 S 55 inch rim ABS 2006 - 2007
BMW R 1200 S 60 inch rim 2006 - 2007
BMW R 1200 S 60 inch rim ABS 2006 - 2007
BMW R 1200 ST 2005 - 2007
BMW R 1200 ST ABS 2005 - 2007
BMW R 25 /3 1953 - 1956
BMW R 26 1956 - 1960
BMW R 27 1960 - 1966
BMW R 45 N 1978 - 1981
BMW R 45 S 1978 - 1981
BMW R 50 /2 1960 - 1969
BMW R 50 /5 1969 - 1972
BMW R 50 1955 - 1960
BMW R 50 S 1960 - 1962
BMW R 51 /2 1950 - 1951
BMW R 51 /3 1951 - 1954
BMW R 51 1938 - 1940
BMW R 60 /2 1960 - 1969
BMW R 60 /5 1969 - 1972
BMW R 60 /6 1973 - 1975
BMW R 60 /7 1978 - 1976
BMW R 60 1956 - 1960
BMW R 65 1Serie 1978 - 1979
BMW R 65 2Serie 1980 - 1984
BMW R 65 3Serie Monolever 1985 - 1992
BMW R 65 G/S 1987 - 1991
BMW R 65 LS 1981 - 1984
BMW R 67 /3 1955 - 1956
BMW R 69 1955 - 1960
BMW R 69 S 1960 - 1969
BMW R 75 /5 1969 - 1972
BMW R 75 /6 1973 - 1975
BMW R 75 /7 1978 - 1976
BMW R 80 /7N 1977 - 1979
BMW R 80 /7S 1977 - 1979
BMW R 80 1991 - 1993
BMW R 80 G/S Monolever 1980 - 1986
BMW R 80 GS Paralever 1987 - 1989
BMW R 80 GS PD Paris Dakar Paralever 1990 - 1992
BMW R 80 GS/2 1990
BMW R 80 GS/2 Paralever 1990 - 1994
BMW R 80 GS/2 Paralever Last Edition 1996 - 1998
BMW R 80 Monolever 1984 - 1992
BMW R 80 RT 1982 - 1984
BMW R 80 RT/2 Monolever 1984 - 1994
BMW R 80 ST 1982 - 1984
BMW R 850 2005 - 2003
BMW R 850 ABS 2005 - 2003
BMW R 850 C Avantgarde Gussrad 1999 - 2000
BMW R 850 C Avantgarde Gussrad ABS 1999 - 2000
BMW R 850 C Avantgarde Speichenrad 1999 - 2000
BMW R 850 C Avantgarde Speichenrad ABS 1999 - 2000
BMW R 850 C Classic cast wheel 1998 - 2000
BMW R 850 C Classic cast wheel ABS 1998 - 2000
BMW R 850 C Classic Speichenrad 1998 - 2000
BMW R 850 Cast wheel 1995 - 2001
BMW R 850 Cast wheel ABS 1998 - 2001
BMW R 850 Comfort 2004 - 2005
BMW R 850 Comfort ABS 2004 - 2005
BMW R 850 GS 1998 - 1999
BMW R 850 GS ABS 1998 - 1999
BMW R 850 Spoked wheel 1995 - 2001
BMW R 850 Spoked wheel ABS 1998 - 2001
BMW R 90 /6 1973 - 1975
BMW R 90 S 1973 - 1975
BMW S 1000 R ABS 2017 - 2015
BMW S 1000 RR 2009 - 2013
BMW S 1000 RR ABS 2017 - 2015
BMW S 1000 XR ABS 2017 - 2015
BMW S 1000 XR ABS ESA 2017