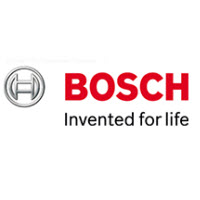 Bosch Auto Parts, Spark Plugs, Ignition Spares & Sensors
Bosch is a German company that is at the forefront of automotive technology, the company is an OE supplier to many manufacturers worldwide.
Bosch produce spark plugs for motorcycles and scooters that are extremely reliable and meet the demands of the modern rider. Bosch has been making spark plugs for over 100 years and has constantly evolved the design and capabilities of their spark plugs to cope with the ever-changing engine technology.
The spark plugs that Bosch make are dependable and can be trusted to perform over the life of the plug. The spark plugs also have excellent cold starting properties. The plugs are insulated to prevent flashover & misfiring, the nickel-plated housing and thread protect against corrosion. The plugs have an Interference suppression resistor incorporated to guarantee reliable safe operation. The center electrode has a copper core for high thermal conductivity and protection from overloading, the ground electrode is hard wearing and is designed to have an extended service life.
Bosch's M6 AGM GEL battery uses (Absorbent Glass Mat) cutting-edge technology. The AGM system is widely used in motorcycle batteries and has been around for years, riders love the outstanding performance the batteries give and the fact they are totally maintenance free. AGM batteries have, approximately 20% longer service life compared with the standard lead-acid motorcycle battery. The batteries have a wide variety of applications and are suitable for motorcycles, scooters, off-road and enduro bikes, they are also perfect for ATV Quads, Snowmobiles, Jet skis and Lawnmowers.