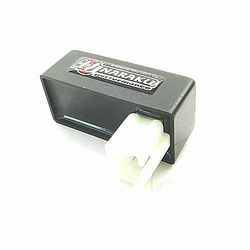 Cdi Ignition Unit Without Rev Limiter Not For Immobiliser Bikes For Pegasus 700.02.27
CDI with no rev limiter.
The speed limit on the original ignition units is about 8000-9000 rpm. Through this CDI cylinder engine reaches speed areas where tuning or tuning cylinder exhaust systems develop their full potential. Can also be used to de-restrict std bikes.
The CDI is not suitable for vehicles with electronic immobilizer. May reclassify a Moped as a motorcycle please check.
Model Codes :
Contents:1 Unit
Motorcycle Fitment Data
Pegasus Corona 25 Comfort Edition 2006 - 2007
Pegasus Corona 25 Sport 2002 - 2005
Pegasus Corona 25 Sport Edition 2006 - 2010
Pegasus Corona 50 Comfort 2002 - 2005
Pegasus Corona 50 Comfort Edition 2006 - 2008
Pegasus Corona 50 Sport 2002 - 2005
Pegasus Corona 50 Sport Edition 2006 - 2010
Pegasus R 25 X DD 2005 - 2010
Pegasus R 50 X DD 2005 - 2010
Pegasus Skipper 50 Comfort 2001
Pegasus Sky 25 Express 2004 - 2009
Pegasus Sky 25 I 1999 - 2008
Pegasus Sky 25 II 2007 - 2009
Pegasus Sky 50 Express 2004 - 2009
Pegasus Sky 50 I 1999 - 2008
Pegasus Sky 50 II 2007 - 2009
Pegasus Solero 25 2000 - 2001
Pegasus Solero 50 2000 - 2001