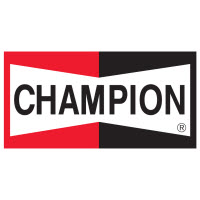 Champion Spark Plugs, Improving Engines Since 1907
Champion have been making spark plugs since 1907, the iconic brand makes spark plugs for virtually every moving vehicle and is trusted by millions of motorcycle riders worldwide. Champion has a proven track record in the design and manufacture of motorcycle parts and has over 100 years of experience and know how. Champion also manufactures a range of motorcycle air filters, oil filters and batteries that are all made with the same care and attention they put into every spark plug.
Champion's range of Power Sports Plugs have been designed to meet the current requirements of the modern motorcyclist, who demand the very best for their bikes. The spark plugs feature Champion's Heat-active Alloy which has been designed to withstand overheating even under extreme engine loads. The plugs have a focused spark to ensure maximum combustion and outstanding performance. The design delivers decreased carbon fouling of the plug, the plugs are guaranteed to start even in the toughest conditions and produce a quicker throttle response and acceleration.
Champion Copper Plus spark plugs are dependable even in the most arduous and testing conditions. The Copper Plus plugs are a great choice if you are replacing your OE spark plug and are looking for an excellent combination of price and performance. Copper spark plug technology has been tried and tested throughout the years and with champion's new innovations such as the Patented Ultrasealâ"¢, which gives the plugs exceptional protection against corrosion and the Patented SAC-9 semiconductor resistor to protect the plug, you can be assured that you are fitting a reliable and exceptional performing spark plug.
With over 30-years experience in producing Iridium spark plugs, you can be sure that you are getting a plug that will deliver the extra performance you are looking for. The Iridium electrode produces supreme durability and performance. The Iridium plugs are guaranteed to perform in a vast range of motorcycles and scooters.
If you require a platinum spark plug Champion has two versions, the Platinum power plugs which combines a nickel and platinum centre electrode coupled with a V ground electrode to produce exceptional performance and the Double Platinum Power spark plugs, which are even more durable and has the Heat-active alloy which maintains stability even at higher temperatures.
Champion also produces a range of oil filters that are made from the very best materials and are constructed to the highest standards, the filters produce up to 99% filtration. The oil filters are made to last and are constructed with metal endcaps and steel centre tubes which produces an ultra strong core structure that withstands the extreme pressures produced by modern engines. The oil filters make an excellent OE replacement that are a perfect OE fit.
One of the most important things you can do from your engine is making sure that the air filter is replaced regularly. The flow of air to your engine is critical to your engine's performance and changing your air filter is the easiest way to restore your vehicle's horsepower. Champion air filters are made from a premium material which removes up to 99% of particles whilst still maintaining excellent airflow to your engine.