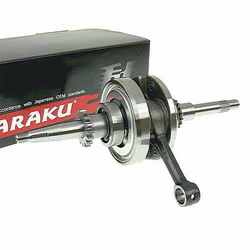 Crankshaft Reinforced 16 Tooth Naraku 13 MM Pin For Luxxon 756.93.95
The crankshaft corresponds to the dimensions and the shape of the original part and is ideal as a spare part with a "Plus" durability for further tuning measures.
The shaft is supplied with pre-assembled and ready-pressed crankshaft bearings.
Oil pump drive with 16 teeth.
Model Codes :
Contents:1 Unit
Motorcycle Fitment Data
Luxxon Emily 50 4T 2013 - 2017
Luxxon Emily 50 GT 4T 2016 - 2017
Luxxon Emily 50 S 4T 2016 - 2017