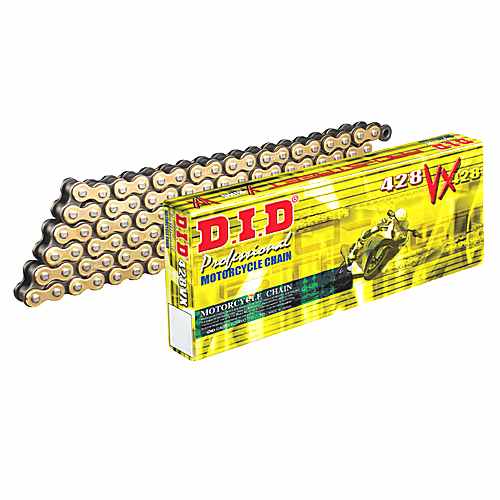 Please Check Motorcycle Fitment Data Below
DID is an OEM of many Japanese and European brands. Leading racing teams in the
Road and off-road sports rely on the technology of DID. 
DID 428VX: 
The development of the 428VX is based on the long - term experiences of DID in the MotoGP and
fulfills the highest demands through the use of the patented X-rings.
Compared to the O-ring equipped V-series, the 428VX has a higher strength and
a higher wear resistance. 
- high durability and low friction due to patented X-ring 
Gold-colored outer pockets, black inner pockets (G & B Gold and Black).
Model Codes :
Contents:1 Unit
Technical Data:
Pitch
: 428
Length
: 132 Links
O-ring type
: X-Ring
Manufacturer
: DID
Type
: VX
Type
: Open
Tensile strength
(kg)
: 3360 kg
Colour - Outer plates
: Gold
Colour - Inner plates
: Black
Continuous index
: 2700
Connection link type
: Spring link
Motorcycle Fitment Data
Yamaha MT 125 2014 - 2015
Yamaha MT 125 A ABS 2015
Yamaha WR 125 R 2014 - 2017
Yamaha WR 125 X 2009
Yamaha YBR 250 2007 - 2008
Yamaha YZF R 125 2008
Yamaha YZF R 125 ABS 2015
Yamaha YZF R 125 Anniversary 2012 - 2013