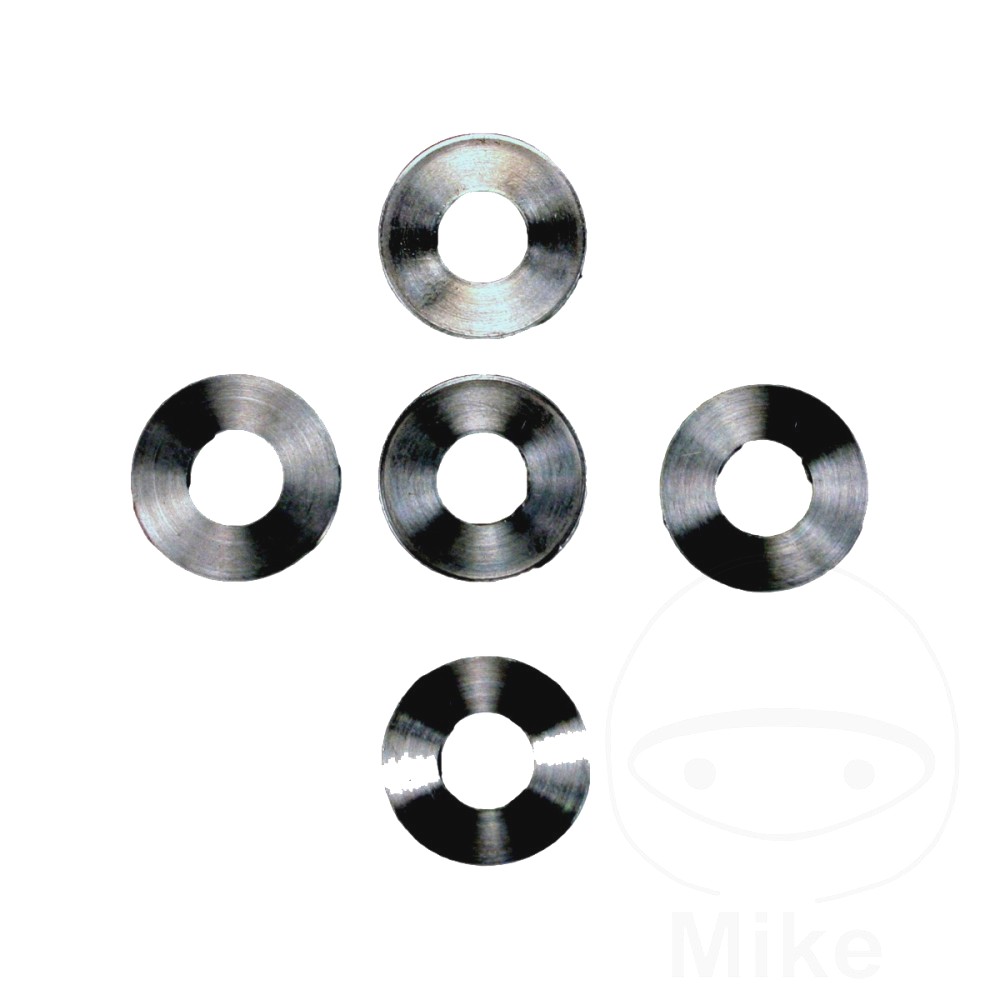 Please Check Motorcycle Fitment Data Below
- Mounting accessories BMW for floating bearing, riveted TRW-Lucas brake discs 5mm
- from year of construction 12 / 2007-
- the kit contains 5 washers
- 1 mounting kit per brake disc 
Most BMW Motorrad models are still equipped with a rigid brake disk that is screwed directly onto the rim by other motorcycle manufacturers, via sleeves and corrugated washers (or spring washers).
The screwed construction was replaced in 2008 by BMW by a pressed version.
The TRW mounting kits make it possible to cover both variants.
This simplifies the assignment, the stocking considerably and is an interesting, cost-effective variant for the BMW customer.
Model Codes :MST12FK
Contents:1 Set
Motorcycle Fitment Data
BMW F 800 GT ABS 2013
BMW F 800 R 2009 - 2010
BMW F 800 R ABS 2009
BMW F 800 S 2008
BMW F 800 S ABS 2008
BMW F 800 ST 2008
BMW F 800 ST ABS 2008
BMW K 1300 R 55 inch rim 2009
BMW K 1300 R 55 inch rim ABS 2009
BMW K 1300 R 60 inch rim 2009
BMW K 1300 R 60 inch rim ABS 2009
BMW K 1300 S ABS 2009
BMW R 1200 2008
BMW R 1200 90 Jahre ABS 2013
BMW R 1200 ABS 2008
BMW R 1200 GS Adventure 2010
BMW R 1200 GS Adventure ABS 2010
BMW R 1200 GS Cast wheel 2008
BMW R 1200 GS Cast wheel ABS 2008
BMW R 1200 GS Spoked wheel 2008
BMW R 1200 GS Spoked wheel ABS 2008
BMW R 1200 HP2 Sport 2008
BMW R 1200 HP2 Sport ABS 2008
BMW R 1200 NineT ABS 2013 - 2014
BMW R 1200 RT 90 Jahre ABS 2013 - 2014
BMW R 1200 RT ABS 2008
BMW S 1000 RR 2009 - 2010
BMW S 1000 RR ABS 2009 - 2010