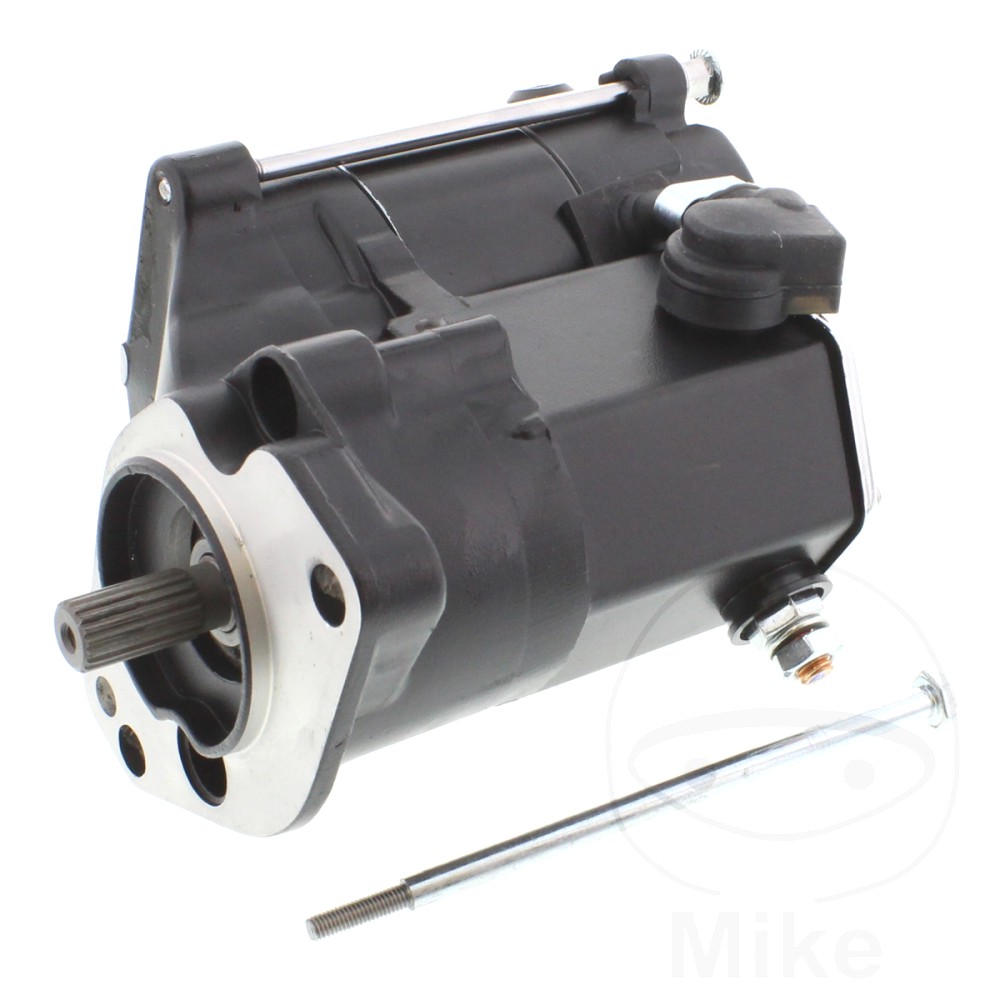 Harley Davidson Starter Motor 1.7Kw Black All Balls Racing For Harley Davidson 700.06.71
All Balls Racing 1,7 kW Starter for Harley Davidson
All Balls Racing starter motors are made in the USA or Canada and have been manufactured to the highest specifications. If you have a broken or worn starter motor these All Balls starter motors make the perfect replacement. The motors have been designed with upgraded internal parts to achieve improved performance and more reliable starts. The motors are manufactured to OEM standards and are a direct fit for your old starter. The motors come with a 1 year manufactures warranty.
suitable for modified FL motors
must not be adapted due to the compact design
Permanent magnet motor is no larger than OE part with 1.2kW
Color: Black
Not suitable for short-haul vehicles due to high current requirements
To get the best performance from your new starter motor we recommend batteries from 300A cold test current and battery cable with 10mm diameter.
1.7 kW Newly designed high-torque starter fits all applications without distance block!
All Balls Racing is an American company who specialise in racing parts for a wide range of motorcycles, ATV's and dirt bikes. The company have a strong reputation with Harley riders in the USA and have vintage kits dating back as far as 1971. All Balls have one of the most complete catalogues of bearing and suspension kits in the industry. On the All Balls website, there is a vast collection of product installation guides to help fit your motorcycle parts.
80-1003
Motorcycle Fitment Data
Harley Davidson FLHR 1450 Electra Glide Road King 1999 - 2000
Harley Davidson FLHR 1450 Road King 2002 - 2003
Harley Davidson FLHRCI 1450 EFI Electra Glide Road King Classic 1999 - 2000
Harley Davidson FLHRCI 1450 EFI Road King Classic 2002 - 2005
Harley Davidson FLHRI 1450 EFI Road King 2004 - 2005
Harley Davidson FLHRSI 1450 EFI Road King Custom 2004 - 2005
Harley Davidson FLHS 1340 Electra Glide Sport 1989 - 1992
Harley Davidson FLHT 1340 Electra Glide Standard 1996 - 1997
Harley Davidson FLHT 1450 Electra Glide Standard 1999 - 2002
Harley Davidson FLHTC 1340 Electra Glide Classic 1989 - 1997
Harley Davidson FLHTC 1450 Electra Glide Classic 2002 - 2003
Harley Davidson FLHTCI 1340 EFI Electra Glide Classic 1996 - 1997
Harley Davidson FLHTCI 1450 EFI Electra Glide Classic 2004
Harley Davidson FLHTCU 1340 Electra Glide Ultra Classic 1989 - 1996
Harley Davidson FLHTCUI 1340 EFI Electra Glide Ultra Classic 1996 - 1997
Harley Davidson FLHTCUI 1450 EFI Electra Glide Ultra Classic 1999 - 2005
Harley Davidson FLHTCUSE 1690 EFI CVO Ultra Classic Electra Glide 2006
Harley Davidson FLHTI 1450 EFI Electra Glide Standard 2004 - 2005
Harley Davidson FLHXI 1450 EFI Street Glide 2006 - 2007
Harley Davidson FLST 1340 Heritage Softail 1989 - 1990
Harley Davidson FLSTBI 1450 EFI Night Train 2005
Harley Davidson FLSTC 1340 Heritage Softail Classic 1989 - 1998
Harley Davidson FLSTC 1450 Heritage Softail Classic 2000 - 2002
Harley Davidson FLSTCI 1450 EFI Heritage Softail Classic 2001 - 2005
Harley Davidson FLSTF 1340 Fat Boy 1990 - 1998
Harley Davidson FLSTF 1450 Fat Boy 2000 - 2002
Harley Davidson FLSTFI 1450 EFI Fat Boy 2001 - 2005
Harley Davidson FLSTFSE 1690 EFI CVO Fat Boy Screamin Eagle 2005
Harley Davidson FLSTFSE2 1690 EFI CVO Fat Boy Screamin Eagle 2006
Harley Davidson FLSTI 1450 EFI Heritage Softail 2006
Harley Davidson FLSTN 1340 Heritage Softail Nostalgia 1993
Harley Davidson FLSTN 1340 Heritage Softail Special 1994 - 1995
Harley Davidson FLSTNI 1450 EFI Softail Deluxe 2005 - 2006
Harley Davidson FLSTS 1340 Heritage Softail Springer 1997 - 1998
Harley Davidson FLSTS 1450 Heritage Springer 2000 - 2002
Harley Davidson FLSTSCI 1450 EFI Softail Springer Classic 2005 - 2006
Harley Davidson FLT 1340 Tour Glide 1989 - 1991
Harley Davidson FLTC 1340 Tour Glide Classic 1989 - 1991
Harley Davidson FLTCU 1340 Tour Glide Ultra Classic 1989 - 1992
Harley Davidson FLTRI 1450 EFI Electra Glide Road 1999 - 2000
Harley Davidson FXD 1340 Dyna Super Glide 1995 - 1997
Harley Davidson FXD 1450 Dyna Super Glide 1999 - 2002
Harley Davidson FXDB D 1340 Dyna Glide Sturgis 1991
Harley Davidson FXDB S 1340 Dyna Glide Daytona 1992
Harley Davidson FXDCI 1450 EFI Dyna Super Glide Custom 2005
Harley Davidson FXDI 1450 EFI Dyna Super Glide 2004 - 2005
Harley Davidson FXDL 1340 Dyna Glide Low Rider 1993 - 1997
Harley Davidson FXDL 1450 Dyna Low Rider 1999 - 2002
Harley Davidson FXDLI 1450 EFI Dyna Low Rider 2004 - 2005
Harley Davidson FXDS CON 1340 Dyna Glide Low Rider Convertible 1994 - 1997
Harley Davidson FXDWG 1340 Dyna Wide Glide 1993 - 1997
Harley Davidson FXDWG 1450 Dyna Wide Glide 1999 - 2002
Harley Davidson FXDWGI 1450 EFI Dyna Wide Glide 2004 - 2005
Harley Davidson FXDX 1450 Dyna Super Glide Sport 1999 - 2002
Harley Davidson FXDXI 1450 EFI Dyna Super Glide Sport 2004 - 2005
Harley Davidson FXDXT 1450 Dyna Super Glide Tour Sport 2001 - 2002
Harley Davidson FXLR 1340 Low Rider Custom 1989 - 1993
Harley Davidson FXR 1340 Super Glide 1989 - 1993
Harley Davidson FXRS 1340 Low Rider 1989 - 1991
Harley Davidson FXRS CON 1340 Low Rider Convertible 1989 - 1992
Harley Davidson FXRS SP 1340 Low Rider Special Edtion 1989 - 1990
Harley Davidson FXRS SP 1340 Low Rider Sport 1991 - 1992
Harley Davidson FXRT 1340 Sport Glide 1989 - 1991
Harley Davidson FXST 1340 Softail 1989 - 1990
Harley Davidson FXST 1340 Softail Standard 1999
Harley Davidson FXST 1450 Softail Standard 2000 - 2002
Harley Davidson FXSTB 1340 Night Train 1998 - 1999
Harley Davidson FXSTB 1450 Night Train 2000 - 2003
Harley Davidson FXSTBI 1450 EFI Night Train 2004 - 2005
Harley Davidson FXSTBIC 1450 EFI Night Creeper 2006
Harley Davidson FXSTC 1340 Softail Custom 1989 - 1997
Harley Davidson FXSTD 1450 Softail Deuce 2000 - 2002
Harley Davidson FXSTDI 1450 EFI Softail Deuce 2001 - 2004
Harley Davidson FXSTI 1450 EFI Softail Standard 2004 - 2005
Harley Davidson FXSTS 1340 Softail Springer 1989 - 1998
Harley Davidson FXSTS 1450 Softail Springer 2000 - 2002
Harley Davidson FXSTSB 1340 Bad Boy 1995 - 1996
Harley Davidson FXSTSI 1450 EFI Softail Springer 2004