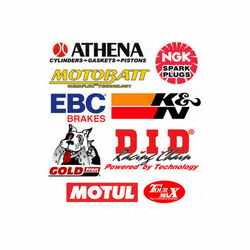 Ignition Coil High Output Naraku For Giantco 700.00.60
Ignition coil with amplified secondary power. 
The standard ignition voltage of an original ignition coil is approx. 16,000V. With the '' high output '' coil, the secondary voltage is nearly doubled.
High ignition voltage ensures a clean ignition at extremely high speeds and cold temperatures. So not only for tuning freaks, but also for ignition-related cold start difficulties '' first choice ''.
Supplied with a silicone-sealed spark plug connector. The candle plug can of course be replaced by another. 
Note: the black terminal is for the ignition signal from the cdi and the green terminal is the gnd
Model Codes :
Contents:1 Unit
Motorcycle Fitment Data
Giantco Bud 50 4T 10 Inch 2012 - 2015
Giantco Bud 50 4T 12 Inch 2012 - 2015
Giantco Cyclop 50 2T 2009 - 2015
Giantco Cyrus II 50 4T 2009 - 2015
Giantco Dolphin Twin 50 4T 10 Inch 2009 - 2015
Giantco Dolphin Twin 50 4T 12 Inch 2009 - 2015
Giantco G 10 50 DD 2T 12 Inch 2010 - 2015
Giantco G 10 50 DD 2T 13 Inch 2010 - 2015
Giantco G 10 50 DT 2T 12 Inch 2010 - 2015
Giantco G 10 50 DT 2T 13 Inch 2010 - 2015
Giantco G Buddy 50 4T 10 Inch 2011 - 2015
Giantco G Buddy 50 4T 12 Inch 2011 - 2015
Giantco Lambros 50 DD 2T Basic 2009 - 2015
Giantco Lambros 50 DD 2T Race 2009 - 2010
Giantco Lambros 50 DD 2T Sport 2009 - 2010
Giantco Lambros 50 DD 4T Basic 2010 - 2015
Giantco Lambros 50 DD 4T Race 2009 - 2010
Giantco Lambros 50 DD 4T Sport 2009 - 2010
Giantco Lambros 50 DT 2T Basic 2009 - 2015
Giantco Lambros 50 DT 2T Race 2009 - 2010
Giantco Lambros 50 DT 2T Sport 2009 - 2010
Giantco Lambros 50 DT 4T Basic 2010 - 2015
Giantco Lambros 50 DT 4T Race 2009 - 2010
Giantco Lambros 50 DT 4T Sport 2009 - 2010
Giantco Spartan 50 DD 2T 2009 - 2015
Giantco Spartan 50 DT 2T 2009 - 2015
Giantco Sprint 50 4T City 2009 - 2015
Giantco Sprint 50 4T Sport 2009 - 2015
Giantco Stealth 50 DT 2T Naked 2009 - 2015
Giantco Stealth 50 DT 4T 2009 - 2015
Giantco Stealth 50 DT 4T Naked 2009 - 2015
Giantco Venus I 50 DT 4T 2009 - 2015
Giantco Venus II 50 DT 4T 2008 - 2015
Giantco Venus IID 50 DT 4T 2010 - 2012