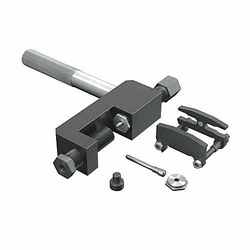 Kellermann Chain Breaker / Rivetter Tool ***Highly Recommended By Uk Team** For Generic 722.00.11
Chain breaker and riveting tool / KTW2.5 
Tool for breaking and rivetting hollow rivet links.
- Splits chain
- Mounts back plate
- rivets the link
NEW:
- The chain tool KTW2.5 is the replacement of the KTW2.0.
- The tool now includes two pins with different diameters.
- In this case the pre-spike is now even more strongly dimensioned and matched to 5xx and 6xx chains.
- The attached mandrel is specially designed for the separation of 4xx chains.
The Kellermann Chain tool enables easy dismantling of the old and the precise assembly of the new chain (with Rivet) without having to remove the rear swing arm. With the tool, chains from all major brands (eg. DID, Regina, RK, JT JMT etc.) can be separated and riveted. Only a 19mm Spanner or Socket is required. 
The chain tool consists of the force-transmitting main tool and a patented positioning for mounting the rivet links, which is characterized by a completely new and simple mounting carriage for the side plate of the chain link. This newly developed, magnetic positioning ensures easy and accurate assembly of the side plate of the chain lock. 
The counter-plate magnets hold the two parts of the chain link and allow a precise, simple and convenient alignment of the chain link parts to each other.
This is crucial for a damage-free installation of the chain lock and can pass through the openings in the pressure plate be controlled anytime. The magnets also ensure that the positioning of the chain link stays in place and does not have to be constantly held.
The main tool positioning unit can be used to suspend the side plate on the chain lock; a step which can be very time consuming and very nerve-racking without the new positioning.
The pressure - and counter plate are designed so that they extend over the adjacent chain links, so that you can see with the naked eye when fitting the chain already, when the flap is suitably far pushed onto the two bolts.
Thus, the damage usually frequent the chain or the chain lock is unlikely to occur due to faulty installation.
It is suitable for all 4s, 5s and 6 series chains.
There are chains of all major brands sold seperately using hollow rivet links. 
!!!DANGER!!! ACCESSORIES!!!! The tool can be used when using the rivet head former  for fully rivetted links.
Reccomended. Tightening torques:
4 series chains: 10Nm
5 series chains: 20Nm
6 series chains: 25Nm 
Warning A torque of over 35 Nm can damage the tool!
Model Codes :130150
Contents:1 Set
Motorcycle Fitment Data
Generic Code 125 2013 - 2014
Generic TR 125 SM ie 2012 - 2013
Generic TR 50 SM 2013 - 2014
Generic TR 50 SM Competition 2013 - 2014
Generic TR 50 SM One 2013 - 2014
Generic TR 50 X 2013 - 2014
Generic TR 50 X Competition 2013
Generic Trigger 125 SM 2008 - 2010
Generic Trigger 125 X 2008 - 2010
Generic Trigger 50 SM 2008 - 2011
Generic Trigger 50 SM Competition 2008 - 2011
Generic Trigger 50 SM One 2011 - 2012
Generic Trigger 50 X 2008 - 2011
Generic Trigger 50 X Competition 2008 - 2011
Generic Worx 125 2012 - 2013