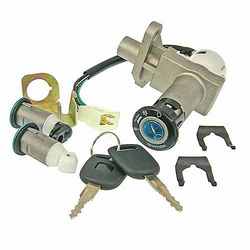 Lock Set Complete Version 1 Chinese Scooter 125/150 For Sachs 705.99.00
Complete Lock set with 2 spare keys for China 4-stroke scooters with 125cc or 150cc engine capacity.
There are different versions of Schlos rates due to different body shapes. Version 1 has a 4-pin connection plug on the ignition switch and 2 separate locks for bench and auxiliary tray. Please compare before ordering exactly the product image if this version is identical to the required Schlos sentence.
Model Codes :
Contents:1 Unit
Motorcycle Fitment Data
Sachs Bee 125 2007 - 2010
Sachs Eagle 125 2007 - 2010