When it comes to AGM motorcycle batteries there is one company that stands out from the crowded market, with its distinctive bright yellow colour scheme and the patented technology within their batteries. When fitting a Motobatt you are guaranteed that you are getting an exceptional product that will give reliable power delivery when you need it most.
Motobatt Warranty UK
When you buy a Motobatt you can be assured that you are getting a premium motorcycle battery that is backed by an extensive 2-year warranty. As an official Motobatt dealer in the UK, we have teamed up with the UK distributor to offer the extended warranty, all you have to do is follow the link below and register with them.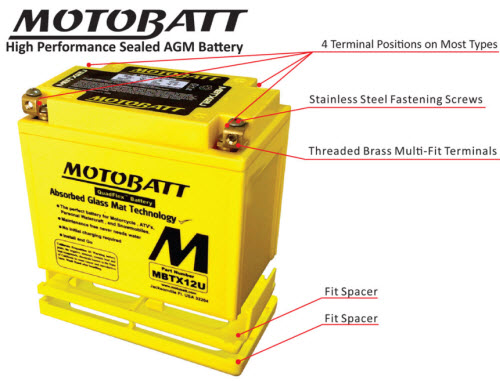 Motobatt Technology
AGM Stand for (Advanced Glass Mat) AKA (GEL Battery), this means that the battery has a fibreglass mat which soaks up the sulfuric acid, the process produces a non-spillable battery that is stable and can be easily shipped and stored. The discharge rate on GEL batteries is also lower than a normal lead-acid battery, meaning that they can be stored longer without charging. The batteries come pre-charged and typically have 80% charge
AGM batteries have very low resistance and can deliver high currents when needed, the higher CCA (Cold Cranking Amp) is ideal for starting larger bikes such as Harley Davidson's and BMW's
The Motobatt patented Quadflex technology has been developed by Motobatt so the battery can be mounted in several ways, the brass terminals are located at each corner for easy installation. The battery is maintenance free, which means you will never have to top the battery up with acid in the future.
One Motobatt can replace several different standard lead-acid batteries due to the ingenious way they have designed the battery to include spacers and their arrangement of terminals with their Quadflex technology. The most popular battery in the Motobatt range is the MBTX12U which replaces Yuasa's YB12BB2, YTX12BS, YTX14BS, YTX14HBS, YTX14LBS, KMX14BS and YTX15L-BS. The Motobatt MBTX12U weighs in at 4.4 kg and has a CCA of 200, the battery runs at 12v coupled with a Capacity of 14 (10HR).
The technology used in the construction of Motobatt's AGM batteries have come from years of testing in the hardest and most demanding conditions, because of its reputation Motobatt proudly sponsorers the AMA Pro Raod Racing & Track Team's and has even been used in the Dakar Rally