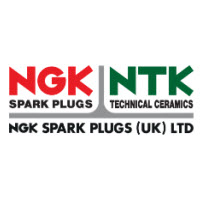 NGK the World's Leading Spark Plug Company
NGK have been making spark plugs since 1930, the company makes in excess 1000 different types of spark plugs. NGK is an OE supplier to many of the top names in the motorcycle industry, their product range includes spark plugs, glow plugs, ignition coils, and ignition leads. NGK has over 14,000 employees spread over 5 research and development centres and 24 manufacturing facilities worldwide. NGK spends million each year on R&D to ensure that their plugs remain at the pinnacle of spark plug technology, with unique designs to suit the ever-changing demands of motorcycle manufactures.
The spark plug is an essential part of modern petrol motorcycle engines, the spark plug ignites the mixture of air and fuel in the combustion chamber, the process creates the power that drives the bike. As you can imagine the forces and heat that a spark plug is subjected to is immense, that is why choosing the correct spark plug is critical. NGK's spark plugs fall into 9 categories listed below
Iridium spark plugs are NGK's flagship solution made with an iridium alloy with a melting point of 2450°C, produces up to double the comparison of standard nickel plugs
NGK Platinum spark plugs comprising of a platinum-plated narrow centre electrode, which generates low spark voltage which ensures optimal combustion
Spark plugs with multiple ground electrodes are a nickel plug producing a spark that constantly jumps over the electrodes. The distribution of electrodes extend the longevity of the plug
Spark plugs V-groove produces a spark that occurs around the edges making ignition easier
Spark plugs with supplementary spark gap these plugs have the ability to clean carbon deposits
Semi-surface ignition type spark plugs erase carbon buildup with each spark
Hybrid spark plugs can operate under the most demanding conditions and are self-cleaning once the spark plug reaches its operational temperature.
NKG Racing spark plugs are designed and manufactured to withstand the extreme temperature, pressure, and vibrations produced by superbikes and race bike
LPG/CNG spark plugs are designed for gas fuelled engines which require a higher voltage to ignite, the plugs have an excellent lifespan of 60,000 km

If you are looking for a high-performance motorcycle spark plug, NGK has it covered. The NGK Iridium IX spark plugs has a laser-welded middle iridium electrode with a 0.6 mm diameter, the special construction materials used in the manufacturing process produces a powerful spark. The spark plug can't be clogged with carbon deposits due to the angled gap. The Iridium IX produces fewer misfires than a standard spark plug. The service life of the plugs are double that of standard NGK spark plugs, the Iridium spark plugs are also more efficient thus reducing fuel consumption.