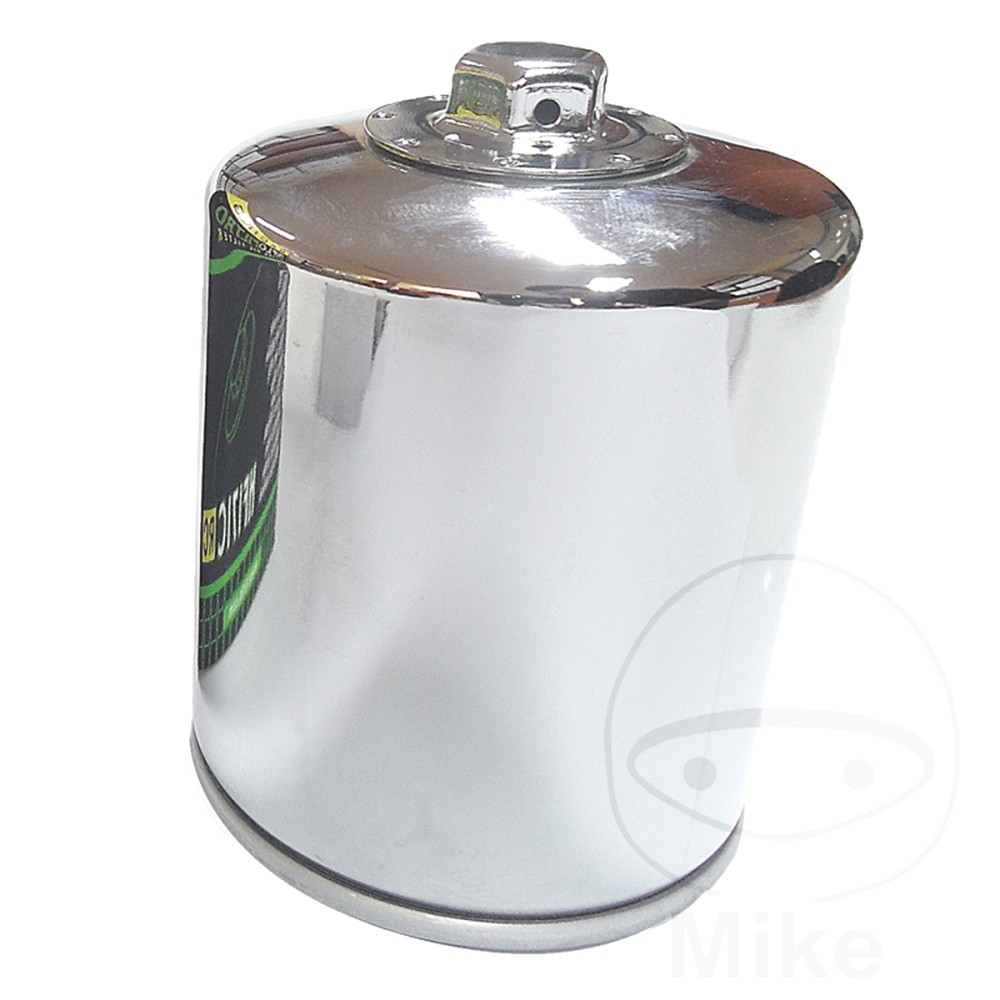 Please Check Motorcycle Fitment Data Below
Hiflo Racing oil filter 
The new Hiflo Racing oil filters have been developed to meet the high demands of racing.
These special racing filters are the only oil filter tested and certified worldwide by TÜV Süddeutschland.
These filters ensure the highest quality, performance and vehicle compatibility. 
The hole on the 17mm hex can easily attach a safety wire, which is prescribed for use on racetracks.  
- High-performance filter material (3-fold fibers) for optimum filtration and constant oil flow
- Robust construction; Cartridge is made of steel
- 17mm hex for quick installation and quick removal
- No special tools necessary
- 17mm hex with hole for safety wire in the race
- Safety valve made of rubber ensures 100% safety
- O-ring pre-greased for quick assembly
- Compatible with all types of oil
-TÜV checked
Model Codes :
Contents:1 Unit
Motorcycle Fitment Data
Harley Davidson FLD 1690 Dyna Switchback ABS 2016 - 2014
Harley Davidson FLHR 1450 Electra Glide Road King 1999 - 2000
Harley Davidson FLHR 1450 Road King 2002 - 2003
Harley Davidson FLHR 1584 Road King 2007 - 2008
Harley Davidson FLHR 1584 Road King ABS 2008 - 2009
Harley Davidson FLHR 1690 Road King ABS 2016
Harley Davidson FLHR 1745 Road King ABS 2017
Harley Davidson FLHR ANV 1690 Road King Classic ABS Anniversary 2013
Harley Davidson FLHRC 1584 Road King Classic 2007 - 2009
Harley Davidson FLHRC 1584 Road King Classic ABS 2008 - 2010
Harley Davidson FLHRC 1690 Road King Classic ABS 2011 - 2015
Harley Davidson FLHRC 1745 Road King Classic ABS 2017
Harley Davidson FLHRCI 1450 EFI Electra Glide Road King Classic 1999 - 2000
Harley Davidson FLHRCI 1450 EFI Road King Classic 2002 - 2005
Harley Davidson FLHRI 1450 EFI Road King 2004 - 2005
Harley Davidson FLHRS 1584 Road King Custom 2007
Harley Davidson FLHRSE 1800 CVO Road King ABS 2014
Harley Davidson FLHRSE3 1800 CVO Screamin Eagle Road King 2007
Harley Davidson FLHRSE4 1800 CVO Screamin Eagle Road King ABS 2008
Harley Davidson FLHRSE5 1800 CVO Road King ABS 2013
Harley Davidson FLHRSI 1450 EFI Road King Custom 2004 - 2005
Harley Davidson FLHT 1450 Electra Glide Standard 1999 - 2002
Harley Davidson FLHT 1584 Electra Glide Standard 2007 - 2008
Harley Davidson FLHT 1584 Electra Glide Standard ABS 2008 - 2009
Harley Davidson FLHTC 1450 Electra Glide Classic 2002 - 2003
Harley Davidson FLHTC 1690 Electra Glide Classic ABS 2011 - 2012
Harley Davidson FLHTCI 1450 EFI Electra Glide Classic 2004
Harley Davidson FLHTCU 1584 Ultra Classic Electra Glide 2007
Harley Davidson FLHTCU 1584 Ultra Classic Electra Glide ABS 2008 - 2009
Harley Davidson FLHTCU 1690 Electra Glide Ultra Classic ABS 2012 - 2015
Harley Davidson FLHTCUI 1450 EFI Electra Glide Ultra Classic 1999 - 2005
Harley Davidson FLHTCUSE 1690 EFI CVO Ultra Classic Electra Glide 2006
Harley Davidson FLHTCUSE2 1800 CVO Ultra Classic Electra Glide 2007
Harley Davidson FLHTCUSE3 1800 CVO Screamin Eagle Ultra Classic Electra Glide ABS 2008
Harley Davidson FLHTCUSE4 1800 CVO Screamin Eagle Ultra Classic Electra Glide ABS 2009
Harley Davidson FLHTCUSE5 1800 CVO Screamin Eagle Ultra Classic Electra Glide ABS 2010
Harley Davidson FLHTCUSE6 1800 CVO Screamin Eagle Ultra Classic Electra Glide ABS 2011
Harley Davidson FLHTCUSE7 1800 CVO Screamin Eagle Ultra Classic Electra Glide ABS 2012
Harley Davidson FLHTCUSE8 1800 CVO Ultra Classic Electra Glide ABS 2013
Harley Davidson FLHTCUTG 1690 Tri Glide Ultra 2016 - 2014
Harley Davidson FLHTCUTG 1745 Tri Glide Ultra 2017
Harley Davidson FLHTI 1450 EFI Electra Glide Standard 2004 - 2005
Harley Davidson FLHTK 1690 Electra Glide Limited ABS 2014 - 2013
Harley Davidson FLHTK 1690 Electra Glide Ultra Limited ABS 2010 - 2011
Harley Davidson FLHTK 1745 Electra Glide Ultra Limited ABS 2017
Harley Davidson FLHTK ANV 1690 Electra Glide Limited Anniversary ABS 2013
Harley Davidson FLHTKL 1690 Electra Glide Limited Low ABS 2016 - 2015
Harley Davidson FLHTKL 1745 Electra Glide Ultra Limited Low ABS 2017
Harley Davidson FLHTKSE 1800 CVO Electra Glide Limited ABS 2014 - 2015
Harley Davidson FLHTKSE 1868 CVO Electra Glide Limited ABS 2017
Harley Davidson FLHX 1584 Street Glide 2007 - 2008
Harley Davidson FLHX 1584 Street Glide ABS 2008 - 2009
Harley Davidson FLHX 1690 Street Glide ABS 2014 - 2012
Harley Davidson FLHXI 1450 EFI Street Glide 2006 - 2007
Harley Davidson FLHXS 1690 Street Glide Special ABS 2015 - 2016
Harley Davidson FLHXS 1745 Street Glide Special ABS 2017
Harley Davidson FLHXSE 1800 CVO Screamin Eagle Street Glide 2010
Harley Davidson FLHXSE 1800 CVO Street Glide ABS 2016 - 2015
Harley Davidson FLHXSE 1868 CVO Street Glide ABS 2017
Harley Davidson FLHXSE2 1800 CVO Screamin Eagle Street Glide ABS 2011
Harley Davidson FLHXSE3 1800 CVO Screamin Eagle Street Glide ABS 2012
Harley Davidson FLRT 1745 Freewheeler 2017
Harley Davidson FLS 1690 Softail Slim ABS 2016 - 2014
Harley Davidson FLSS 1800 S Softail Slim ABS 2016 - 2017
Harley Davidson FLSTBI 1450 EFI Night Train 2005
Harley Davidson FLSTC 1340 Heritage Softail Classic 1999
Harley Davidson FLSTC 1450 Heritage Softail Classic 2000 - 2002
Harley Davidson FLSTC 1584 Heritage Softail Classic 2007 - 2009
Harley Davidson FLSTC 1584 Heritage Softail Classic ABS 2011
Harley Davidson FLSTC 1690 Heritage Softail Classic 2013 - 2015
Harley Davidson FLSTC 1690 Heritage Softail Classic ABS 2016 - 2017
Harley Davidson FLSTC 1690 Heritage Softail Springer 2012 - 2014
Harley Davidson FLSTC ANV 1690 Heritage Softail Classic Anniversary ABS 2013
Harley Davidson FLSTCI 1450 EFI Heritage Softail Classic 2001 - 2005
Harley Davidson FLSTF 1340 Fat Boy 1999
Harley Davidson FLSTF 1450 Fat Boy 2000 - 2002
Harley Davidson FLSTF 1584 Softail Fat Boy 2007 - 2009
Harley Davidson FLSTF 1584 Softail Fat Boy ABS 2011
Harley Davidson FLSTF 1690 Softail Fat Boy ABS 2016 - 2014
Harley Davidson FLSTFB 1584 Softail Fat Boy Special 2010
Harley Davidson FLSTFB 1584 Softail Fat Boy Special ABS 2011
Harley Davidson FLSTFB 1690 Softail Fat Boy Special ABS 2016 - 2014
Harley Davidson FLSTFB ANV 1690 Softail Fat Boy Special Anniversary ABS 2013
Harley Davidson FLSTFBS 1800 S Softail Fat Boy Special ABS 2016 - 2017
Harley Davidson FLSTFI 1450 EFI Fat Boy 2001 - 2005
Harley Davidson FLSTFSE 1690 EFI CVO Fat Boy Screamin Eagle 2005
Harley Davidson FLSTFSE2 1690 EFI CVO Fat Boy Screamin Eagle 2006
Harley Davidson FLSTI 1450 EFI Heritage Softail 2006
Harley Davidson FLSTN 1584 Softail Deluxe 2007 - 2008
Harley Davidson FLSTN 1584 Softail Deluxe ABS 2011
Harley Davidson FLSTN 1690 Softail Deluxe ABS 2016 - 2014
Harley Davidson FLSTNI 1450 EFI Softail Deluxe 2005 - 2006
Harley Davidson FLSTNR 1584 Reaper Softail Deluxe 2010
Harley Davidson FLSTNSE 1800 CVO Softail Deluxe ABS 2014 - 2015
Harley Davidson FLSTS 1340 Heritage Softail Springer 1999
Harley Davidson FLSTS 1450 Heritage Springer 2000 - 2002
Harley Davidson FLSTSB 1584 Softail Cross Bones 2008 - 2010
Harley Davidson FLSTSC 1584 Softail Springer Classic 2007
Harley Davidson FLSTSCI 1450 EFI Softail Springer Classic 2005 - 2006
Harley Davidson FLSTSE 1800 CVO Screamin Eagle Softail Convertible 2010
Harley Davidson FLSTSE2 1800 CVO Screamin Eagle Softail Springer ABS 2011
Harley Davidson FLSTSE3 1800 CVO Screamin Eagle Softail Convertible ABS 2012
Harley Davidson FLTRI 1450 EFI Electra Glide Road 1999 - 2000
Harley Davidson FLTRSE3 1800 CVO Screamin Eagle Road Glide ABS 2009
Harley Davidson FLTRU 1690 Road Glide Ultra ABS 2016
Harley Davidson FLTRU 1745 Road Glide Ultra ABS 2017
Harley Davidson FLTRUSE 1800 CVO Road Glide Ultra ABS 2016 - 2015
Harley Davidson FLTRUSE 1800 CVO Screamin Eagle Road Glide Ultra ABS 2011
Harley Davidson FLTRXS 1690 Road Glide Special ABS 2015 - 2016
Harley Davidson FLTRXS 1745 Road Glide Special ABS 2017
Harley Davidson FLTRXSE 1800 CVO Screamin Eagle Road Glide Custom ABS 2012
Harley Davidson FXCW 1584 Softail Rocker 2008 - 2009
Harley Davidson FXCWC 1584 C Softail Rocker 2008 - 2009
Harley Davidson FXCWC 1584 C Softail Rocker ABS 2011
Harley Davidson FXD 1450 Dyna Super Glide 1999 - 2002
Harley Davidson FXDB 1584 Dyna Street Bob 2007 - 2012
Harley Davidson FXDB 1584 Dyna Street Bob ABS 2012 - 2013
Harley Davidson FXDB 1690 Dyna Street Bob ABS 2016 - 2014
Harley Davidson FXDBA 1690 Dyna Street Bob Special Edition ABS 2013
Harley Davidson FXDBB 1690 Dyna Street Bob Special Edition ABS 2014
Harley Davidson FXDBC 1690 Dyna Street Bob Special ABS 2016
Harley Davidson FXDBI 1450 EFI Dyna Street Bob 2006 - 2007
Harley Davidson FXDC 1584 Dyna Super Glide Custom 2007 - 2010
Harley Davidson FXDC 1584 Dyna Super Glide Custom ABS 2012 - 2013
Harley Davidson FXDC 1690 Dyna Super Glide Custom ABS 2014
Harley Davidson FXDC ANV 1584 Dyna Super Glide Custom ABS Anniversary 2013
Harley Davidson FXDCI 1450 EFI Dyna Super Glide Custom 2005 - 2006
Harley Davidson FXDF 1584 Dyna Fat Bob 2008 - 2010
Harley Davidson FXDF 1584 Dyna Fat Bob ABS 2012
Harley Davidson FXDF 1690 Dyna Fat Bob ABS 2016 - 2014
Harley Davidson FXDFSE 1800 CVO Screamin Eagle Fat Bob 2009
Harley Davidson FXDFSE2 1800 CVO Screamin Eagle Fat Bob 2010
Harley Davidson FXDI 1450 EFI Dyna Super Glide 2004 - 2005
Harley Davidson FXDI 35th 1450 EFI Super Glide Anniversay 2006 - 2007
Harley Davidson FXDL 1450 Dyna Low Rider 1999 - 2002
Harley Davidson FXDL 1584 Dyna Low Rider 2007 - 2008
Harley Davidson FXDL 1690 Dyna Low Rider 2014
Harley Davidson FXDL 1690 Dyna Low Rider ABS 2016 - 2017
Harley Davidson FXDLI 1450 EFI Dyna Low Rider 2004 - 2005
Harley Davidson FXDLS 1800 S Dyna Low Rider ABS 2016 - 2017
Harley Davidson FXDSE 1800 CVO Screamin Eagle Dyna 2007
Harley Davidson FXDSE2 1800 CVO Screamin Eagle Dyna 2008
Harley Davidson FXDWG 1450 Dyna Wide Glide 1999 - 2002
Harley Davidson FXDWG 1584 Dyna Wide Glide 2007 - 2010
Harley Davidson FXDWG 1584 Dyna Wide Glide ABS 2012
Harley Davidson FXDWG 1690 Dyna Wide Glide ABS 2016 - 2014
Harley Davidson FXDWGI 1450 EFI Dyna Wide Glide 2004 - 2005
Harley Davidson FXDX 1450 Dyna Super Glide Sport 1999 - 2002
Harley Davidson FXDXI 1450 EFI Dyna Super Glide Sport 2004 - 2005
Harley Davidson FXDXT 1450 Dyna Super Glide Tour Sport 2001 - 2002
Harley Davidson FXS 1584 Softail Blackline 2011
Harley Davidson FXS 1584 Softail Blackline ABS 2012
Harley Davidson FXSB 1690 Softail Breakout ABS 2016 - 2014
Harley Davidson FXSBSE 1800 CVO Breakout ABS 2013 - 2014
Harley Davidson FXSE 1800 CVO Pro Street Breakout ABS 2016 - 2017
Harley Davidson FXST 1340 Softail Standard 1999
Harley Davidson FXST 1450 Softail Standard 2000 - 2002
Harley Davidson FXSTB 1340 Night Train 1998 - 1999
Harley Davidson FXSTB 1450 Night Train 2000 - 2003
Harley Davidson FXSTB 1584 Softail Night Train 2007 - 2008
Harley Davidson FXSTBI 1450 EFI Night Train 2004 - 2005
Harley Davidson FXSTBIC 1450 EFI Night Creeper 2006
Harley Davidson FXSTBIC 1584 Softail Night Creeper 2007 - 2008
Harley Davidson FXSTC 1584 Softail Custom 2007 - 2008
Harley Davidson FXSTD 1450 Softail Deuce 2000 - 2002
Harley Davidson FXSTDI 1450 EFI Softail Deuce 2001 - 2004
Harley Davidson FXSTI 1450 EFI Softail Standard 2004 - 2005
Harley Davidson FXSTS 1340 Softail Springer 1999
Harley Davidson FXSTS 1450 Softail Springer 2000 - 2002
Harley Davidson FXSTSI 1450 EFI Softail Springer 2004
Harley Davidson FXSTSSE 1800 CVO Softail Springer 2007
Harley Davidson FXSTSSE2 1800 CVO Screamin Eagle Softail Springer 2008
Harley Davidson FXSTSSE3 1800 CVO Screamin Eagle Softail Spirnger 2009