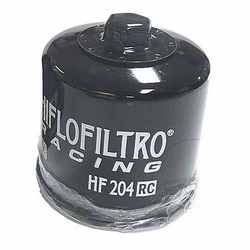 Oil Filter Hiflo Racing Hf204Rc For Yamaha 723.02.73
Hiflo Racing oil filter 
The new Hiflo Racing oil filters have been developed to meet the high requirements of the racing application.
These special racing filters are the only oil filters tested and certified worldwide by TÜV Süddeutschland.
These filters ensure the highest quality, performance and vehicle compatibility. 
A safety wire, which is required for use on racetracks, can be easily fitted over the 17mm hex hole.  
- High-performance filter material (3-fold fibers) for optimum filtration and constant oil flow
- Robust construction; Cartridge consists of steel
- 17mm hex for quick installation and quick removal
- No special tools required
- 17mm hex with hole for securing wire in the race insert
- Safety valve made of rubber ensures 100% safety
- Pre-greased O-ring for quick assembly
- Compatible with all types of oil
TÜV tested
Model Codes :
Contents:1 Unit
Motorcycle Fitment Data
Yamaha FJR 1300 A ABS 2013 - 2015
Yamaha FJR 1300 AE Electronic suspension ABS 2014 - 2015
Yamaha FJR 1300 AS Automatik ABS 2013 - 2015
Yamaha FZ1 1000 N 2006 - 2012
Yamaha FZ1 1000 NA ABS 2008 - 2012
Yamaha FZ1 1000 S Fazer 2006 - 2012
Yamaha FZ1 1000 S GT Fazer 2007
Yamaha FZ1 1000 SA Fazer ABS 2007 - 2012
Yamaha FZ1 1000 SA GT Fazer ABS 2007
Yamaha FZ6 600 N 2007
Yamaha FZ6 600 NA ABS 2007
Yamaha FZ6 600 S Fazer 2007 - 2008
Yamaha FZ6 600 SA Fazer ABS 2007 - 2008
Yamaha FZ6 S2 600 NAHG ABS 2007 - 2009
Yamaha FZ6 S2 600 NHG 2007 - 2009
Yamaha FZ6 S2 600 SAHG Fazer ABS 2007 - 2009
Yamaha FZ6 S2 600 SHG Fazer 2007 - 2008
Yamaha FZ8 800 N 2011 - 2014
Yamaha FZ8 800 N Anniversary 2012
Yamaha FZ8 800 NA ABS 2011 - 2015
Yamaha FZ8 800 NA Anniversary ABS 2012
Yamaha FZ8 800 S Fazer 2010 - 2014
Yamaha FZ8 800 SA Fazer ABS 2011 - 2015
Yamaha MT 03 320 A ABS 2016
Yamaha MT 07 700 2016 - 2014
Yamaha MT 07 700 A ABS 2016 - 2014
Yamaha MT 07 700 A Moto Cage ABS 2014 - 2016
Yamaha MT 07 700 A Tracer ABS 2017 - 2016
Yamaha MT 07 700 Moto Cage 2014 - 2016
Yamaha MT 09 850 2016 - 2013
Yamaha MT 09 850 A ABS 2017 - 2015
Yamaha MT 09 850 A Sport Tracker ABS 2014 - 2015
Yamaha MT 09 850 A Street Rally ABS 2014 - 2015
Yamaha MT 09 850 Sport Tracker 2014 - 2015
Yamaha MT 09 850 Street Rally 2014 - 2015
Yamaha MT 09 850 TR A Tracer ABS 2017 - 2015
Yamaha MT 10 1000 A ABS 2017
Yamaha MT 10 1000 SP A ABS 2017 - 2016
Yamaha SCR 950 A ABS 2017
Yamaha XJ6 600 F Diversion 2010 - 2014
Yamaha XJ6 600 FA Diversion ABS 2014 - 2012
Yamaha XJ6 600 N 2009 - 2013
Yamaha XJ6 600 N SP 2013
Yamaha XJ6 600 NA ABS 2013 - 2012
Yamaha XJ6 600 S Diversion 2014 - 2012
Yamaha XJ6 600 SA Diversion ABS 2014 - 2012
Yamaha XSR 700 A ABS 2017 - 2016
Yamaha XSR 700 A Anniversary ABS 2016
Yamaha XSR 900 A ABS 2016
Yamaha XSR 900 A Anniversary ABS 2016
Yamaha XT 1200 ZA Super Tenere ABS 2010 - 2011
Yamaha XT 1200 ZA Super Tenere/Worldcrosser ABS 2017 - 2015
Yamaha XT 1200 ZE A Super Tenere/Worldcrosser ABS 2017 - 2015
Yamaha XV 1900 A Midnight Star 2011 - 2013
Yamaha XV 950 2016 - 2014
Yamaha XV 950 A ABS 2014 - 2015
Yamaha XV 950 A Racer ABS 2016 - 2017
Yamaha XV 950 A Racer ABS Anniversary 2016
Yamaha XV 950 RA ABS 2014 - 2015
Yamaha XVS 1300 A Midnight Star 2010 - 2015
Yamaha XVS 1300 Custom 2014 - 2015
Yamaha XVS 950 A Midnight Star 2009 - 2012
Yamaha YFM 350 A GA Grizzly 2WD 2011
Yamaha YFM 350 A GW Grizzly 2WD 2007
Yamaha YFM 350 A GX Grizzly 2WD 2008
Yamaha YFM 350 A GY Grizzly 2WD 2009
Yamaha YFM 350 A GZ Grizzly 2WD 2010
Yamaha YFM 350 A TE Grizzly 2WD 2014
Yamaha YFM 350 A TF Grizzly 2WD 2015
Yamaha YFM 350 A TG Grizzly 2WD 2016
Yamaha YFM 350 A TH Grizzly 2WD 2017
Yamaha YFM 350 AS XV Wolverine 2WD 2006
Yamaha YFM 350 AS XW Wolverine 2WD 2007
Yamaha YFM 350 AS XX Wolverine 2WD 2008
Yamaha YFM 350 AS XY Wolverine 2WD 2009
Yamaha YFM 350 FWA FDE Grizzly 4WD 2014 - 2016
Yamaha YFM 350 FWA FGA Grizzly 4WD 2011
Yamaha YFM 350 FWA FGB Grizzly 4WD 2012
Yamaha YFM 350 FWA FGD Grizzly 4WD 2013
Yamaha YFM 350 FWA FGW Grizzly 4WD 2007
Yamaha YFM 350 FWA FGX Grizzly 4WD 2008
Yamaha YFM 350 FWA FGY Grizzly 4WD 2009
Yamaha YFM 350 FWA FGZ Grizzly 4WD 2010
Yamaha YFM 350 FWAN FGDW Grizzly IRS 4WD 2007
Yamaha YFM 350 FWAN FGDX Grizzly IRS 4WD 2008
Yamaha YFM 350 FWAN FGDY Grizzly IRS 4WD 2009
Yamaha YFM 350 FWAN FGDZ Grizzly IRS 4WD 2010
Yamaha YFM 350 FWAN FGIA Grizzly IRS 4WD 2011
Yamaha YFM 450 FAS FXV Wolverine 2006
Yamaha YFM 450 FAS FXW Wolverine 2007
Yamaha YFM 450 FAS FXW Wolverine Special Edition 2007
Yamaha YFM 450 FAS FXX Wolverine 2008
Yamaha YFM 450 FAS FXX Wolverine Special Edition 2008
Yamaha YFM 450 FAS FXY Wolverine 2009
Yamaha YFM 450 FAS FXZ Wolverine 2010 - 2011
Yamaha YFM 450 FWA DXG Grizzly IRS 2016
Yamaha YFM 450 FWA FGA Grizzly IRS 2011
Yamaha YFM 450 FWA FGB Grizzly IRS 2012
Yamaha YFM 450 FWA FGD Grizzly IRS 2013
Yamaha YFM 450 FWA FGE Grizzly IRS 2014
Yamaha YFM 450 FWA FGF Grizzly IRS 2015
Yamaha YFM 450 FWAD FGPA Grizzly EPS 2011
Yamaha YFM 450 FWAD FGPAD Grizzly EPS 2013
Yamaha YFM 450 FWAD FGPB Grizzly EPS 2012
Yamaha YFM 450 FWAD FGPD Grizzly EPS 2013
Yamaha YFM 450 FWAD FGPF Grizzly EPS 2015
Yamaha YFM 450 FWAD FGPHA Grizzly EPS 2011
Yamaha YFM 450 FWAD FGPHB Grizzly EPS 2012
Yamaha YFM 450 FWAD FGPHE Grizzly EPS 2014
Yamaha YFM 450 FWAD FGPHF Grizzly EPS 2015
Yamaha YFM 450 FWAD FGPSA Grizzly EPS Special Edition 2011
Yamaha YFM 450 FWAD FGPXG Grizzly EPS 2016
Yamaha YFM 450 FWAN FAW Kodiak 2007
Yamaha YFM 450 FWAN FGW Grizzly 2007
Yamaha YFM 450 FWAN FGX Grizzly 2008
Yamaha YFM 450 FWAN FGX Grizzly Camo 2008
Yamaha YFM 450 FWAN FGX Grizzly Special Edition 2008
Yamaha YFM 450 FWAN FGY Grizzly 2009
Yamaha YFM 450 FWAN FGZ Grizzly 2010
Yamaha YFM 550 FWA FDF Grizzly 2015 - 2016
Yamaha YFM 550 FWA FGA Grizzly 2011 - 2012
Yamaha YFM 550 FWA FGD Grizzly 2013
Yamaha YFM 550 FWA FGE Grizzly 2014
Yamaha YFM 550 FWA FGY Grizzly 2009
Yamaha YFM 550 FWA FGZ Grizzly 2010
Yamaha YFM 550 FWAD FGPA Grizzly EPS 2011
Yamaha YFM 550 FWAD FGPAD Grizzly EPS 2013
Yamaha YFM 550 FWAD FGPB Grizzly EPS 2012
Yamaha YFM 550 FWAD FGPD Grizzly EPS 2013
Yamaha YFM 550 FWAD FGPE Grizzly EPS 2014
Yamaha YFM 550 FWAD FGPF Grizzly EPS 2015 - 2016
Yamaha YFM 550 FWAD FGPHA Grizzly EPS Camou 2011
Yamaha YFM 550 FWAD FGPHB Grizzly EPS Camou 2012
Yamaha YFM 550 FWAD FGPHD Grizzly EPS Camou 2013
Yamaha YFM 550 FWAD FGPHE Grizzly EPS Camou 2014
Yamaha YFM 550 FWAD FGPHF Grizzly EPS Camou 2015 - 2016
Yamaha YFM 550 FWAD FGPHZ Grizzly EPS Camou 2010
Yamaha YFM 550 FWAD FGPLED Grizzly EPS Special Edition 2013 - 2015
Yamaha YFM 550 FWAD FGPSEA Grizzly EPS Special Edition 2011
Yamaha YFM 550 FWAD FGPSEY Grizzly EPS Special Edition 2009
Yamaha YFM 550 FWAD FGPY Grizzly EPS 2009
Yamaha YFM 550 FWAD FGPY Grizzly EPS Camou 2009
Yamaha YFM 550 FWAD FGPZ Grizzly EPS 2010
Yamaha YFM 660 FWA FGW Grizzly 2007
Yamaha YFM 660 FWA FGX Grizzly 2008
Yamaha YFM 700 FWAD FGPA Grizzly EPS 2011
Yamaha YFM 700 FWAD FGPB Grizzly EPS 2012
Yamaha YFM 700 FWAD FGPD Grizzly EPS 2013
Yamaha YFM 700 FWAD FGPHA Grizzly Camou EPS 2011
Yamaha YFM 700 FWAD FGPHB Grizzly Camou EPS 2012
Yamaha YFM 700 FWAD FGPHD Grizzly Camou EPS 2013
Yamaha YFM 700 FWAD FGPHW Grizzly Camou EPS 2007
Yamaha YFM 700 FWAD FGPHX Grizzly Camou EPS 2008
Yamaha YFM 700 FWAD FGPHY Grizzly Camou EPS 2009
Yamaha YFM 700 FWAD FGPHZ Grizzly Camou EPS 2010
Yamaha YFM 700 FWAD FGPLED Grizzly EPS Limited Edition 2013
Yamaha YFM 700 FWAD FGPSA Grizzly EPS Limited Edition 2011
Yamaha YFM 700 FWAD FGPSEA Grizzly EPS Special Edition 2011
Yamaha YFM 700 FWAD FGPSEB Grizzly EPS Special Edition 2012
Yamaha YFM 700 FWAD FGPSED Grizzly EPS Special Edition 2013
Yamaha YFM 700 FWAD FGPSEW Grizzly EPS Special Edition 2007
Yamaha YFM 700 FWAD FGPSEX Grizzly EPS Special Edition 2008
Yamaha YFM 700 FWAD FGPSEY Grizzly EPS Limited Edition 2009
Yamaha YFM 700 FWAD FGPSEY Grizzly EPS Special Edition 2009
Yamaha YFM 700 FWAD FGPSEZ Grizzly EPS Limited Edition 2010
Yamaha YFM 700 FWAD FGPW Grizzly EPS 2007
Yamaha YFM 700 FWAD FGPX Grizzly EPS 2008
Yamaha YFM 700 FWAD FGPY Grizzly EPS 2009
Yamaha YFM 700 FWAD FGPZ Grizzly EPS 2010
Yamaha YFM 700 FWAD PE Grizzly EPS WTHC 2014
Yamaha YFM 700 FWAD PF Grizzly EPS WTHC 2015
Yamaha YFM 700 FWAD PHE Grizzly EPS WTHC Camou 2014
Yamaha YFM 700 FWAD PHF Grizzly EPS WTHC Camou 2015
Yamaha YFM 700 FWAD PSE Grizzly EPS WTHC Special Edition 2014 - 2015
Yamaha YXE 700 R Wolverine Special Edition 2016 - 2017
Yamaha YXE 700 R WPHG Wolverine Camou 2015 - 2016
Yamaha YXE 700 R WPXG Wolverine 2015 - 2016
Yamaha YXE 700 R WPXH Wolverine 2017
Yamaha YXM 700 PE Viking 2014
Yamaha YXM 700 PF Viking 2015 - 2016
Yamaha YXM 700 PH Viking 2017
Yamaha YXM 700 PHE Viking Camou 2014
Yamaha YXM 700 PHF Viking Camou 2015 - 2016
Yamaha YXM 700 PHH Viking Camou 2017
Yamaha YXM 700 PSE Viking Special Edition 2014
Yamaha YXM 700 PSF Viking Special Edition 2015 - 2016
Yamaha YXM 700 PSH Viking Special Edition 2017
Yamaha YXR 700 FA Rhino 2011
Yamaha YXR 700 FB Rhino 2012
Yamaha YXR 700 FD Rhino 2013 - 2014
Yamaha YXR 700 FHY Rhino Camou 2009 - 2010
Yamaha YXR 700 FSEPA Rhino Special Edition 2011
Yamaha YXR 700 FSEPY Rhino Special Edition 2009 - 2010
Yamaha YXR 700 FSEY Rhino Special Edition 2009 - 2010
Yamaha YXR 700 FSP2X Rhino Special Edition 2008
Yamaha YXR 700 FSP2Y Rhino Special Edition 2009 - 2010
Yamaha YXR 700 FSPB Rhino Special Edition 2012
Yamaha YXR 700 FSPD Rhino Special Edition 2013 - 2014
Yamaha YXR 700 FSPX Rhino Special Edition 2008
Yamaha YXR 700 FX Rhino 2008
Yamaha YXR 700 FX Rhino Camou 2008
Yamaha YXR 700 FY Rhino 2009 - 2010
Yamaha YXZ 1000 R E YPXG EPS 2016
Yamaha YXZ 1000 R E YPXH EPS 2017
Yamaha YXZ 1000 R ES SE Special Edition EPS 2016
Yamaha YXZ 1000 R ES Special Edition EPS 2017
Yamaha YXZ 1000 R ES XPSG Special Edition EPS 2016
Yamaha YXZ 1000 R ET Sport Shift EPS 2017
Yamaha YZF R1 1000 2007 - 2014
Yamaha YZF R1 1000 ABS 2017 - 2016
Yamaha YZF R1 1000 Anniversary 2012 - 2013
Yamaha YZF R1 1000 Anniversary ABS 2016
Yamaha YZF R1 1000 M Special Edition 2015
Yamaha YZF R1 1000 M Special Edition ABS 2017 - 2016
Yamaha YZF R3 320 A ABS 2016 - 2015
Yamaha YZF R6 600 2006 - 2015
Yamaha YZF R6 600 Anniversary 2012 - 2013
Yamaha YZF R6 600 S Edition 2006 - 2007