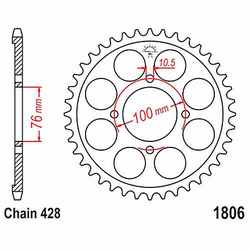 Black Inner Diameter 76 Spacing 100
JTR1806.47The JT Sprockets manufacturing is today the largest and most modern manufacturing plant for pinions and chain wheels world,
equipped, among others, with the latest generation of CNC manufacturing machines.
JT Sprockets produces the entire program of pinions and sprockets for the aftermarket and original equipment.
Each sprocket and chain traverses 25 production stages and is thereby subjected to more than ten individual quality checks in order to leave the production successful.
JT Sprockets manufactures in the correct way: by turning, milling and drilling! This is the only way to achieve the highest quality at the lowest tolerances and the best profile of the teeth.
After subsequent heat remuneration each article is manually checked - so JT Sprockets sets new quality standards in the motorcycle industry.
Ref: 727.01.78
Technical Data:
Pitch
: 428
Inner Diameter
: 76 mm
PCD
: 100 mm
Bolt hole diameter
: 10.5 mm
Number of mounting bolts
: 4
Bolt type
: Flathead
Number of teeth
: 47
Sprocket material
: Steel
Manufacturer
: JT
JTR1806.47