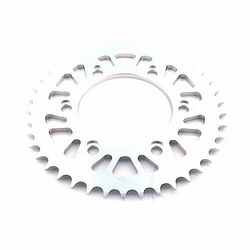 Rear Sprocket aluminium 41 Tooth Pitch 520 Silver ID 100 Spacing 124 For Ducati 758.27.45
JT Aluminum Rear Motorcycle / Motorbike Sprockets
JT Sprockets are a world-renowned producer of sprockets. JT specialise in manufacturing sprockets and chains, their catalogue is extensive and has over 2500 products covering most motorcycles and ATVs.
The JT rear sprockets are made out of 7075-T6 aircraft grade aluminium alloy which is the ideal material for making sprockets. The sprockets that JT produce are ultra lightweight while also being tough enough to withstand the rigours demanded by modern-day motorbike riders.
JT sprockets are made by the latest computerised laser cutters to produce sprockets that meet the exacting tolerance levels needed to make a high-performance sprocket. Before the sprockets leave the factory they undergo 25 production stages then have to pass 10 quality checks. JT make over 18 million sprockets each year and are sold in 70 countries throughout the world.
Technical Data:
Pitch
: 520
Inner Diameter
: 100 mm
PCD
: 124 mm
Bolt hole diameter
: 10.5 mm
Number of mounting bolts
: 6
Bolt type
: Flathead
Number of teeth
: 41
Sprocket material
: Aluminium
Colour
: Silver
Manufacturer
: JT
JTA735.41
Motorcycle Fitment Data
Ducati 851 S 1988
Ducati 851 Strada 1991
Ducati 888 SP2 Sport Production 1990
Ducati 888 SP3 Sport Production 1991
Ducati 888 SP4 Sport Production 1992
Ducati 888 SP5 Sport Production 1993
Ducati 888 Strada 1993
Ducati 907 900 ie 1990
Ducati MH 900 E 2001
Ducati Monster 600 1994
Ducati Monster 600 City 1999
Ducati Monster 600 City Dark 1999
Ducati Monster 600 Dark 1998
Ducati Monster 600 Metallic 2000
Ducati Monster 620 ie DD 2002
Ducati Monster 620 ie DD Dark 2004
Ducati Monster 620 ie MD Dark 2003
Ducati Monster 620 S ie 2002
Ducati Monster 695 2007
Ducati Monster 696 2008
Ducati Monster 696 ABS 2010
Ducati Monster 696 Anniversary ABS 2013
Ducati Monster 750 1996
Ducati Monster 750 City 1999 - 2000
Ducati Monster 750 City Dark 1999
Ducati Monster 750 Dark 1999 - 2000
Ducati Monster 750 ie 2002
Ducati Monster 750 ie Dark 2002
Ducati Monster 750 Metallic 2000 - 2001
Ducati Monster 800 ie 2004
Ducati Monster 800 ie Dark 2003
Ducati Monster 800 ie S 2003
Ducati Monster 900 1993
Ducati Monster 900 City 1999
Ducati Monster 900 City Dark 1999
Ducati Monster 900 Cromo 1998 - 1999
Ducati Monster 900 ie 2000
Ducati Monster 900 ie City 2000
Ducati Monster 900 ie City Dark 2000
Ducati Monster 900 ie Cromo 2001
Ducati Monster 900 ie Dark 2000
Ducati Monster 900 ie Metallic 2000
Ducati Monster 900 S 1998 - 1999
Ducati Monster 900 S ie Special 2000
Ducati Multistrada 620 ie DD 2005
Ducati Multistrada 620 ie MD Dark 2005
Ducati S 620 ie Sport Carenata 2003
Ducati S 620 ie Sport Nuda 2003
Ducati S 750 ie Sport Carenata 2001
Ducati S 750 ie Sport Nuda 2001
Ducati S 800 ie Sport Carenata 2003
Ducati S 800 ie Sport Nuda 2003
Ducati SL 900 Super Light 1992
Ducati Supersport 350 SS 1989 - 1993
Ducati Supersport 400 SS 1993
Ducati Supersport 600 SS Carenata 1994
Ducati Supersport 600 SS Nuda 1994
Ducati Supersport 750 SS Carenata 1994
Ducati Supersport 750 SS ie Carenata 1999
Ducati Supersport 750 SS ie Nuda 1999
Ducati Supersport 750 SS Nuda 1991
Ducati Supersport 800 SS ie Carenata 2003
Ducati Supersport 800 SS ie Nuda 2003
Ducati Supersport 900 SS 1990
Ducati Supersport 900 SS Carenata 1991
Ducati Supersport 900 SS FE Final Edition 1998
Ducati Supersport 900 SS ie Carenata 1999
Ducati Supersport 900 SS ie Nuda 1999
Ducati Supersport 900 SS Nuda 1991