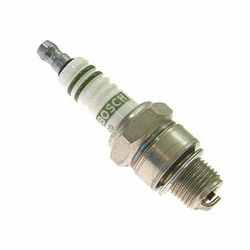 Spark Plug Bosch W7Ac For Buffalo/Quelle 129.20.69
Bosch spark plug
The spark plug is an essential part of the combustion engine and needs to operate at extremely hot temperatures, Bosch has designed their spark plugs to produce reliable performance throughout the life span of the plug and to keep working in the toughest terrains. Bosch spark plugs are created for constant cold starts and maximum combustion, giving savings both on fuel costs and emissions.
Bosch spark plugs consist of a copper core which is surrounded by a nickel plated housing, a leakage barrier prevents misfiring, whilst the heat shrink assembly ensures complete gas tightness.
Bosch has a vast range of spark plugs to suit most motorcycles, scooters and motocross bikes.
Bosch Automotive Parts is a division of Bosch the world famous German company which was founded in 1886. The company make a vast array of items for motorcycles and cars as well as the more well-known household goods and tools.
As you might expect, the components made by Bosch are all stringently tested and have been designed to meet OEM standards
Motorcycle parts made by Bosch include batteries, spark plugs and other electronic parts. Today Bosch is the leading manufacturer of automotive parts worldwide. All Bosch parts sold at Motorcycle Spares UK come with one year manufactures warranty.
Motorcycle Fitment Data
Buffalo/Quelle Califfone 25 2000 - 2002