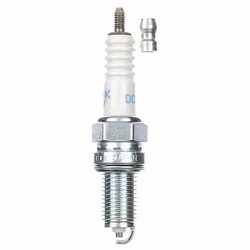 Spark Plug Ngk Dcpr8E For Ducati 708.30.82
Standard NGK Motorcycle / Motorbike Spark Plug
The standard NGK spark plug has a copper core construction for greater heat transfer and is triple sealed to prevent fuel leakage. The plug includes a resistor to ensure greater performance and a longer lifespan. The spark plug has been insolated with a ceramic shield which is ribbed to prevent falshover.
NGK Spark Plugs was established in Nagoya Japan in 1936, NGK is a premium spark plug manufacturer and has a strong reputation amongst motorcycle riders across the world. The company makes spark plugs, glow plugs, Ignition coils and engine sensors. NGK has offices across Asia, Europe and America and a dedicated research and development facility in Germany.
NGK have received awards numerous awards for innovation throughout the years and are currently the official spark plug supplier to MotoGP and the superbike world championship. NGK a have an excellent reputation for making exceptional products which have been thoroughly tested before leaving their factories.
4339
Motorcycle Fitment Data
Ducati GT 1000 Sportclassic 2007 - 2010
Ducati GT 1000 Sportclassic Touring 2009 - 2010
Ducati Hypermotard 1100 2008 - 2009
Ducati Hypermotard 1100 Evo 2010 - 2013
Ducati Hypermotard 1100 S 2008 - 2009
Ducati Hypermotard 1100 SP Evo 2010 - 2013
Ducati Hypermotard 1100 SP Evo Corse Edition 2012 - 2013
Ducati Hypermotard 796 2010 - 2013
Ducati Monster 1000 ie 2003 - 2005
Ducati Monster 1000 S ie 2003 - 2005
Ducati Monster 1000 S2R 2006 - 2008
Ducati Monster 1100 2009 - 2011
Ducati Monster 1100 ABS 2010 - 2011
Ducati Monster 1100 Diesel ABS 2013
Ducati Monster 1100 Evo ABS 2012 - 2013
Ducati Monster 1100 Evo Anniversary ABS 2013
Ducati Monster 1100 S 2009 - 2011
Ducati Monster 1100 S ABS 2010 - 2011
Ducati Monster 620 ie DD 2002 - 2005
Ducati Monster 620 ie DD Dark 2004 - 2005
Ducati Monster 620 ie MD Dark 2003 - 2006
Ducati Monster 620 S ie 2002 - 2003
Ducati Monster 695 2007 - 2008
Ducati Monster 696 2008 - 2011
Ducati Monster 696 ABS 2010 - 2014
Ducati Monster 696 Anniversary ABS 2013
Ducati Monster 750 ie 2002
Ducati Monster 750 ie Dark 2002
Ducati Monster 796 2012
Ducati Monster 796 ABS 2012 - 2014
Ducati Monster 796 Anniversary ABS 2013
Ducati Monster 797 ABS 2017
Ducati Monster 800 S2R 2006 - 2007
Ducati Monster 800 S2R Dark 2005 - 2006
Ducati Multistrada 1100 2007 - 2009
Ducati Multistrada 1100 S 2007 - 2009
Ducati Multistrada 620 ie DD 2005 - 2006
Ducati Multistrada 620 ie MD Dark 2005 - 2006
Ducati Multistrada DS 1000 2003 - 2006
Ducati Multistrada DS 1000 S 2005 - 2006
Ducati Portedefolio 1100 S 2007 - 2008
Ducati Scrambler 800 Cafe Racer ABS 2017
Ducati Scrambler 800 Classic ABS 2015 - 2017
Ducati Scrambler 800 Desert Sled ABS 2017
Ducati Scrambler 800 Flat Track Pro ABS 2016
Ducati Scrambler 800 Full Throttle ABS 2015 - 2017
Ducati Scrambler 800 Icon ABS 2015 - 2017
Ducati Scrambler 800 Italia Independent ABS 2016
Ducati Scrambler 800 Urban Enduro ABS 2015 - 2016
Ducati Sport 1000 S Sportclassic Biposto 2007 - 2009
Ducati Sport 1000 Sportclassic Biposto 2007 - 2008
Ducati Sport 1000 Sportclassic Monoposto 2006
Ducati Sport 1000 Sportclassic Paul Smart 2006
Ducati Supersport 1000 SS Carenata 2003 - 2004
Ducati Supersport 1000 SS Nuda 2003
Ducati Supersport DS 1000 SS Carenata 2005 - 2007