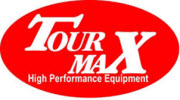 Tourmax Motorcycle Parts and Repair Kits
Here at motorcycle spares UK we carry an extensive Tourmax catalogue of motorcycle part. If you are looking for aftermarket motorcycle parts, our new search function above is easy to use, just type you make, model, year and the part you are looking for into the search bar this will enable you to search our extensive tour max motorcycle parts database
Tour Max is a major player in aftermarket parts, it has an outstanding reputation amongst motorcyclist in Japan. In the UK Tourmax has steadily grown and is renowned for their parts for classic Japanese bikes which otherwise would to hard to obtain. The parts are made to the highest OEM standards and have been rigorously tested before they leave the factory.
Tour Max Review of motorcycle carburetor refurbishment Kits
Tour Max's carb repair kits contain everything you need to repair or rebuild your carburettor. All the kits are bike specific and have all the parts necessary for repairing your carb. The seals and gaskets are all petrol resistant and made from the highest quality materials. The image below is an example of what a typical kit contains, the kit comprises of gasket, seals and the float needle. The kit below is for a Honda Fireblade.