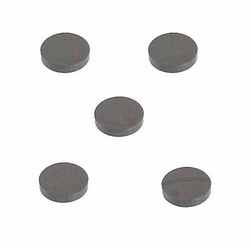 Valve Shim 9.5 MM 1.725 Contains 5 pcs For Honda 747.04.06
Prox valve shims are all made of high quality materials.
Because of the specific heat treatment, the hardness of the shims is ensured so that a maximum can be assured of hardness and less wear.
All shims are precision-manufactured and therefore fit perfectly.
Model Codes :
Contents:1 Set
Technical Data:
Diameter
: 9.5 mm
Thickness
: 1.725 mm
Motorcycle Fitment Data
Honda CRF 1000 L Africa Twin 2016
Honda CRF 1000 LA Africa Twin Track ABS 2016
Honda CRF 1000 LD Africa Twin ABS DCT Track 2016
Honda CRF 450 R 2002 - 2015
Honda CRF 450 X 2005 - 2014
Honda TRX 450 ER Sportrax E Start 2006 - 2008
Honda TRX 450 R Sportrax K Start 2004 - 2008
Honda VTR 1000 F Fire Storm 2001 - 2005
Honda VTR 1000 SP1 2000 - 2001
Honda VTR 1000 SP2 2002 - 2005
Honda XL 1000 V Varadero 1999 - 2011
Honda XL 1000 VA Varadero ABS 2004 - 2011