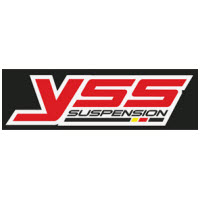 YSS Premium Shocks & Suspension for Motorcycle, Scooters & Mopeds
YSS suspension is a Thai company that makes high-end shocks and suspension parts for motorcycles and mopeds. The company has been making exceptional products for the last 30 years. YSS has steadily built its reputation since 1983 when the business was first established. YSS has continually strived to improve and innovate the motorcycle suspension market, today the brand is trusted by demanding motorcycle & scooter riders across the world.
The company has over 30 dealers worldwide that produce parts to several international standards, QS9000, ISO9002, ISO/TS16949 and "ABE" from Germany's Transport Authority. The vision and leadership shown by the company are second to none and with is focus on after sales and customer service with its CRM program you can be assured that you will be getting top class support. The parts all come with a 1-year warranty and are shipped from the UK. YSS motorcycle shocks are packed with groundbreaking technology and can be adjusted to suit your motorcycle riding style.
YSS Hi-Low Speed Technology
The Hi-Low Speed Technology from YSS enables the rider to eradicate hydraulic lock. The low-speed and high-speed valves are designed to control and maintain the flow of fork oil, the high-speed valve is only activated when the oil pressure is too high thus preventing hydraulic lock. YSS's Closed Cartridge High-Low Speed Gas Fork Technology (CCG H-L Technology) allows the rider to set the high-speed and low-speed compression on the shocks by 15 clicks each
YSS Preload Adjustment Settings
YSS has 4 ways different ways in which their shocks can be adjusted with preloading. The step preload adjustment is made by a spring layer which can be rotated to the left to create extra spring stiffness. Threaded spring preload is an adjustable nut on a threaded section of the cylinder which is usually located on the top of the shock, the rider can fine-tune the preload nut to match their ridings style (the shocks come with a tool to make adjustments easier). Hydraulic spring preload is the fastest way to make adjustments, the rider can rotate the knob easily to stiffen or soften the ride. The hydraulic knob can either be on the cylinder or on the hose.
YSS Compression & Other Shock Features
Low-speed compression settings are adjusted via a special needle which is used to control the oil flow from the shock cylinder to the Sub Tank. Rebound settings are made via a control knob, the rebound can be set to fast or slow to suit the riders need. Most YSS shock can also be adjusted for length, there are 2 types, the 10mm type can only increase the length by 10 mm and the +/- type which can be adjusted up and down by 5 mm
How To Read YSS Codes
The codes below show the features the shock has and helps identify the correct shock.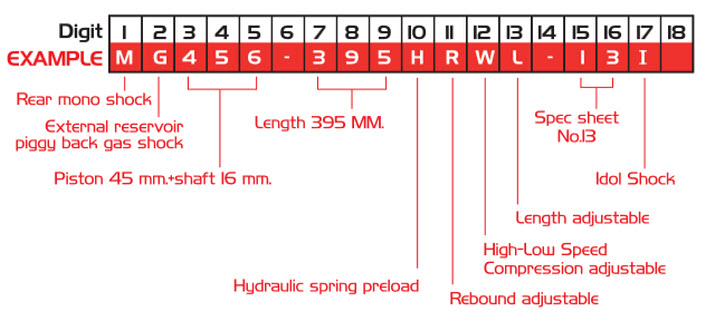 Digit 1: Product group

F = Front twin shock
V = Front mono shock
R = Rear twin shock
M = Rear mono shock
T = Rear twin scooter shock
O = Rear mono scooter shock
K = Front fork
E = Steering damper


Digit 2: Product type

S = Single tube hydraulic shock
D = Double tube hydraulic shock
Z = Emulsion gas shock (E = Eco line)
B = Gas-DTG
T = Triple piston (ATPD)
A = Divided piston gas shock
G = Top external reservoir piggyback gas shock (C = Eco line)
U = Bottom external reservoir piggyback gas shock (K = Eco line)
X = Extrnal reservoir piggyback on hose gas shock (O = Eco Line)


Digit 3-6: Piston and shaft size

168 = Piston 16 mm + shaft 8 mm.
88 = Piston 18 mm + shaft 8 mm.
220 = Piston 22 mm + shaft 10 mm.
222 = Piston 22 mm + shaft 12 mm.
302 = Piston 30 mm + shaft 12 mm.
304 = Piston 30 mm + shaft 14 mm.
306 = Piston 30 mm + shaft 16 mm.
308 = Piston 30 mm + shaft 18 mm.
364 = Piston 36 mm + shaft 14 mm.
362 = Piston 36 mm + shaft 12 mm.
366 = Piston 36 mm + shaft 16 mm.
456 = Piston 45 mm + shaft 16 mm.
506 = Piston 50 mm + shaft 16 mm.
3020 = Piston 30 mm + shaft 20 mm.

Digit 7: - or /

Digit 8-10: Length of shock

Digit 11

P = Step Spring Preload
T = Threaded Spring Preload
H = Hydraulic Spring Preload
H1 = Hydraulic Spring Preload On Hose
H2 = Pneumatic Preload Adjuster

Digit 12

R = Rebound Adjustable

Digit 13

C = Compression Adjustable
W = High-low Speed Compression Adjustable
V = VBSC High-low Speed Compression
And Oil Balance Adjustable


Digit 14:

L = Length Adjustment +5/-5 mm.

Digit 15: L-J= Length Adjustment + 10 mm.

Digit 16-17: Spec sheet number

Digit 18: Additional

AB = Shock Absorber with bearing and 30 click compression
B = Black edition Shock Absorber (Completely Black Shock Absorber)
F = Off-Road Shock Absorber
I = Idol Shock absorber (Reservoir 90 degree against shock absorber body)
O = Shock with off-set fork or eye-let
S = Classic Series (Black Sticker instead of red sticker)
V = Barrel Spring
X = For Export